As Pakistan battles with devastating floods, Sindh, one of its southernmost provinces, is preparing for far worse.
One thousand one hundred thirty-six people have died in the Pakistan floods, and about 500,000 people have fled their homes and are living in makeshift shelters. There are fears that a third of the nation may be inundated, but experts say water levels are slowly falling in some parts.
• Concerns that monsoon rains could inundate a third of the country have caused Pakistan's death toll to jump to 1,136.
• Almost 500,000 people have gathered in camps after losing their homes, and millions more are being impacted.
The nation's climate minister cautioned that Pakistan is on the "front lines" of the global climate disaster.
• Turkey and the United Arab Emirates are responding to a distress cry by launching a massive relief effort.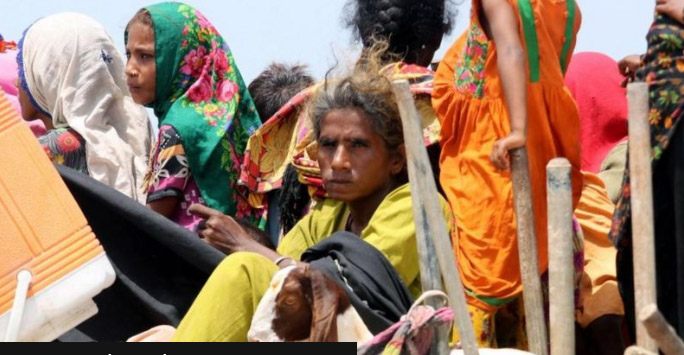 According to officials, floods from overflowing rivers are headed for low-lying areas, endangering millions with additional suffering. Since June, floods have killed almost 1,000 people in Pakistan, uprooted thousands more, and affected millions more. Every community the BBC visited in Sindh had a sign that read, "Send help." This province has been a little break from the rains, home to approximately 50 million people. But restoring order will require more than a few bright days. The floods this year have been disastrous, and their effects are widespread.
Many rural areas already had rudimentary infrastructure. For example, many roads are not tarred, and some bridges are worn out after years of little maintenance. However, the issue is more complex than just the infrastructure.
According to Pakistani officials who have faced floods numerous times, the horror unleashed by the skies was beyond anything they could have anticipated.
According to officials, the US, UK, UAE, Bangladesh and other countries have donated to a catastrophe appeal, but more money is still required.
According to the Dawn, Pakistan's Prime Minister Shehbaz Sharif announced a payout of 10 billion rupees ($45 million) for those in the worst-hit Khyber Pakhtunkhwa province daily.
According to Mr Sharif, each flood-affected family will get 25,000 rupees ($112), distributed within. About 15% of the country's population, 33 million people, according to Mr Sharif, were affected by the floods. According to him, the losses brought on by this season's floods were equivalent to those brought on by the allegedly most significant floods ever recorded in 2010–2011.
Mr Sharif's requests for further aid were echoed by Pakistan's foreign minister, Bilawal Bhutto-Zardari. It is staggering, he said to Reuters, adding that he had never witnessed destruction on this scale. One official overseeing a relief effort in the severely damaged city of Larkana stated, "People worldwide talk about climate change and something it's simply a notion." "We can see that climate change is occurring for ourselves on the ground. Such rains in the past are unprecedented. In the upcoming days, torrents from overflowing rivers in the northern, mountainous region are expected. But only Sindh province is experiencing the destruction. A dad in the northern Khyber Pakhtunkhwa province told the BBC that his daughter had been lost in a flooded river. In the Kaghan Valley resident Muhammad Fareed's words, "She informed me: "Daddy, I'm going to collect leaves for my goat."
When she approached the river's edge, a surge of water followed and carried her away.