By: ANSAR AHMED ULLAH
On 27 May 2022, Ruby Hoque was buried at the Garden of Peace in Hainault after her funeral at the Brick Lane Mosque. Human rights leader Ruby Hoque, the General Secretary of the United Kingdom branch of the Ekattorer Ghatak Dalal Nirmul Committee, died on 25 May 2022 at St. Francis Hospital in Romford, London. She was only 52 years old at the time of her death. She had been suffering from a terminal brain tumour for several months.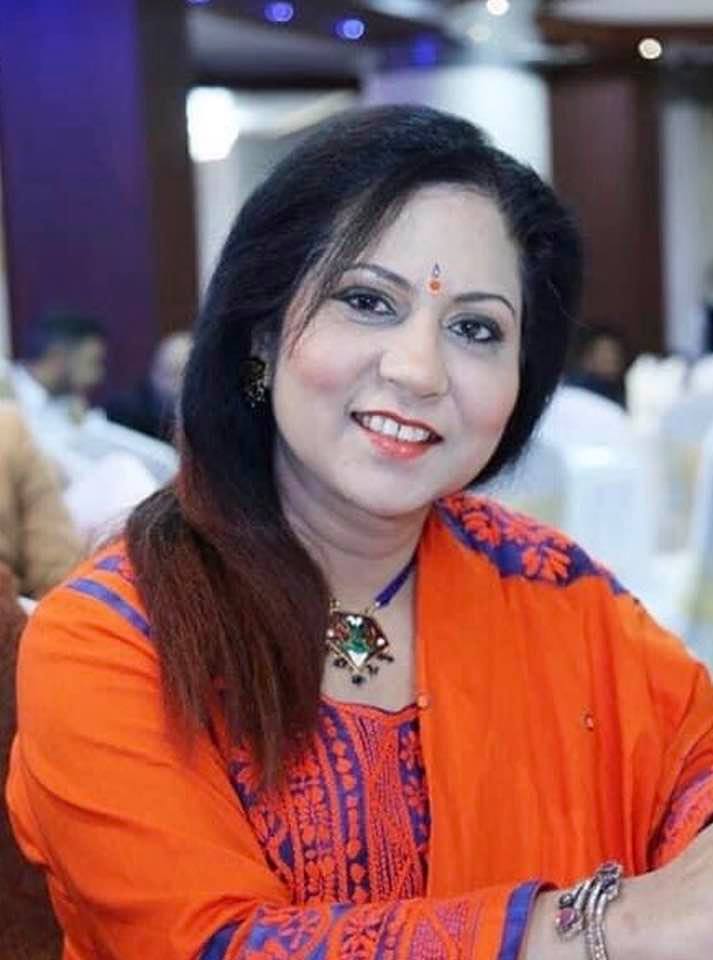 Ruby Hoque was a fighter in the movement to build a non-communal Bangladesh in the spirit of the Liberation War. She was a strong voice in all the progressive movements of the expatriate Bengalis in the UK. Her untimely death is an irreparable loss to the movement of progressive and secular humanity. In 2021, she took over as the General Secretary of the Nirmul Committee and held it with impunity till her death.
In addition to Nirmul Committee, Ruby Hoque was Women's Secretary of Greater London JASOD, Convener of Nari Jote, Vice President of Justice for Bangladesh Genocide 1971 in UK, President of London Branch of Human Rights Commission UK, Women's Secretary of Sunamganj Zilla Samiti UK, teacher, Joint Convenor of Moulik Arts, and host on Hawa Online TV.
When the news of her death spread, the Bengali community in Britain fell into mourning, many rushed to her residence. For over two decades, Ruby Hoque was associated with several social and cultural organisations in Britain. A lifelong non-sectarian and believer in the spirit of Liberation War, Ruby Hoque was vocal against extremism and bigotry.
Ruby Hoque is survived by two daughters and a son at the time of death. Her husband is a prominent UK politician and progressive cultural personality UK JASOD Vice President Advocate Mujibul Hoque Moni. Ruby Haque was born in Osmani Nagar Upazila of Sylhet.
The United Kingdom branch of Ekattorer Ghatak Dalal Nirmul Committee of 1971 held a mourning meeting in memory of the late general secretary of the organisation, Ruby Hoque, on 10 August 2022.
Syed Enamul Islam, president of the Nirmul Committee UK branch of 1971, presided over the mourning meeting held at the Kobi Nazrul Center in East London under the title 'Smritipote Rabe Tumi'.
Speakers at the ceremony said Ruby Hoque was a courageous secular liberal cultural activist. She will be remembered for her firm stand on the spirit of the Liberation War.
Acting General Secretary of the organisation Munira Parvin conducted the program. Chief Guest was Bangladesh High Commission London Counsellor (Political) Dewan Mahmudul Haque. Freedom fighters Dewan Gous Sultan & Abu Musa Hasan spoke as special guests. Human Rights Commission president Abdul Ahad Chowdhury, poet Shamim Azad, community leader Syed Nurul Islam Dulu, writer-poet Maynur Rahman Babul, vice president of Women Awami League Husneara Matin, son of the martyr family Prashant Purokayastha, vice president of Nirmul Committee Matiar Chowdhury, vice president of Nirmul Committee Nilufa Yasmin, writer and journalist Hamid Mohammad, ex-general secretary of Nirmul Committee Syeda Nazneen Sultana Shikha, teacher Enayet Sarwar, executive member of Nirmul Committee Najma Hossain, member of Central Nirmul Committee Ansar Ahmed Ullah also spoke at the event.
From Ruby Hoque's family, her husband Advocate Mujibul Haque Moni, younger sister Rumy Haque, brother-in-law Batirul Haque Shordar, cousin ​​Shah Mustafizur Rahman Belal and Khalu Ferdous Halim Khan were present at the occasion.
Artists Alaur Rahman, Mustafa Kamal Milon and Salma Akhtar remembered the late human rights activist Ruby Hoque with a musical performance. Smriti Azad, joint general secretary of the Nirmul Committee, recited. A minute's silence was observed during the ceremony to pray for the deceased's soul. A documentary produced by AR Television Network on the life and work of the late Nirmul Committee leader was screened at the funeral.