Small villages isolated in the middle of the water. Like each small island. A row of hijal trees drowning in the haor. Karach forest rising from under the water. Shushuk's jump-jump will instantly cheer you up. Kishoreganj Haor is like that.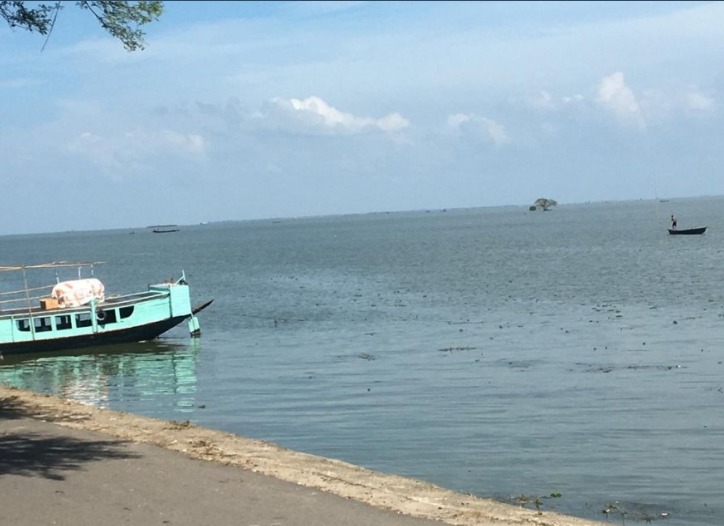 As soon as the boat starts moving, it has to be lost in the realm of water. As far as the eye can see, the calm water like the sweet village will add life. As soon as the boundary of the water ends, the sky is wide. Some houses in the middle of it. Boat drivers live here. This area is also involved in fishing. The fish of this haor is sold in the city market every day. But their main occupation is agriculture. Talking to the boatman, it is known that during the dry season, Haor turns into a fertile field. Different types of vegetables are cultivated throughout the season. Like most villages, the education rate here is low. Bhatiali songs can be heard in the sweet voice of village children while going around in the boat.
Fishermen's boats, children's swimming and small and big trees in the middle of the haor will bring the beauty of the villages of Bengal that have almost disappeared. At the end of the day, you may have to return to urban life again. But every monsoon will create a desire to travel to Kishoreganj Hao.
boat rental
Usually charges 700 to 800 taka for one hour. You can take it for a few hours at 500 taka per hour. Of course, take the rent at a bargain price. It may decrease further. The boats are also quite large. Up to 15-20 people can easily dance around. The fare does not vary much according to the size of the boat.
Food arrangement in Nikli
Basically Nikli doesn't have much good quality food. But there are several restaurants in the market. It will be good to eat with fresh fish of fair quality. There is also a restaurant at the entrance to the embankment; In that restaurant, you can eat the regional taste of fresh fish from the river.
You can spend the night on the boat
You can spend an entire night on the roof of the boat under the dark blue sky of a full moon night. It is quite safe to stay there at night. If the weather is good. However, for complete security, Nikli police station should be informed. Then you can spend a carefree and comfortable night. At night must stay somewhere near the embankment. Although there is no proper accommodation in Danga in Nikoli, there is a Dak bungalow under Nikoli Thana Police in case of emergency accommodation. You can make arrangements there by talking to the police. If this is not the case, then the city of Kishoreganj is close at hand.
how to go
If you want to leave Dhaka early in the morning and arrive in the night, then the best way is to go through Pulerghat. Nearest to Nikli Hao is Pulerghat in Kishoreganj. You can go directly to Pulerghat by 'Ananya Super' and 'Yatayat' bus from Golapbagh bus stand near Syedabad in Dhaka. Rent is 220 Tk. It will take 3 hours. Nikli Beribandh in 1 hour by CNG-powered autorickshaw from Pulerghat. CNG fare is Tk 80 per person.
You will get a bus from Golapbagh from early morning. But if you want to eat well, you have to go to Kishoreganj city. It takes one hour to go from Nikoli to Kishoreganj city by CNG. And if you like, you can visit some other traditional monuments like Isha Khan's house, Chandravati's Shiv Mandir, historical Pagla Mosque, historical Sholakia Eidgah etc. in and around Kishoreganj city. But you can directly go to Kishoreganj city from Dhaka. From Kishoreganj city you can go again to Nikli Howre. CNG autorickshaws go towards Nikli from the south side of the railway station. With a fare of 80 taka per head, you can reach the Nikli Haor embankment in just 1 hour.
Or you can leave the city to a leather port very close to the city. From there, you can rent a boat and visit the other side of Haor. CNG auto-rickshaws or battery-powered auto-rickshaws are available from Ekrampur railway crossing in the city to Khadyabandar. CNG will take less than half an hour. The fare is Tk 40-50 per head.
If you want to pass through Kishoreganj
Kishoreganj buses are available from morning to late evening at Golapbagh bus stand or Mohakhali bus stand.
Kishoreganj buses leaving from Mohakhali are small type. Or you can go by train. The most comfortable journey to Kishoreganj is by train. Three intercity trains run between Dhaka and Kishoreganj throughout the day.