Limon Ahmed
The last cinema hall was closed in Netrokona. At one time, there were 20 cinema halls in this district. The business of the cinema hall in Netrokona came to an end with the closure of Hiramon Hall last week. Not just in Netrokona, the film business is winding down across the country. In 1994, the number of cinema halls in the country was 1,400. Currently, there are 60 cinema halls in operation. Ten more could close at any time.
Asked why this was happening, Kazi Firoz Rashid, former president of the Film Exhibitors' Association, who is a Jatiya Party MP and senior leader in parliament, said there were no new films, no viewers, no hassle of running foreign films, no income, no staff salaries. The owners are closing this long-running business. Many are demolishing cinema halls and building commercial buildings. Ticket prices are higher at Cineplex. So that's what's happening. A similar opinion was expressed by Iftekhar Uddin, head of Madhumita Hall and leader of the Film Exhibitors Association. He said, what is the benefit of leaving such a big hall without pictures? Everyone interferes when it comes to bringing foreign movies. Visitors do not come to see the movies. Corona has finished the rest of the halls.
Gulistan, one of the traditional halls of Dhaka, was demolished after 1996. There was also talk of building a hall with a shopping mall in the commercial establishment of the 12-storey building. But that did not happen in the end. Dhaka's Rupmahal, Taj Mahal, Beauty, Moon, Mallika, Jyoti, Lion, Shabistan, Garrison, Parbat, Sagarika, Meghna, Jamuna, Diana, Agaman, Atithi, Purnima, Rajmani have been demolished. There were 44 cinema halls in Dhaka City. Now there are 22. There are now five of the 16 halls in the mofusbal area of the Dhaka district. Narayanganj now has 12 of the 34 cinema halls. There are only 6 out of 19 halls in Gazipur. Of the 18 halls in Munshiganj, four have survived. There is only 1 out of 16 halls in the Manikganj district. There is no cinema hall in the Mofasbal area of Narsingdi district now. There are 4 out of 21 cinema halls in the district town.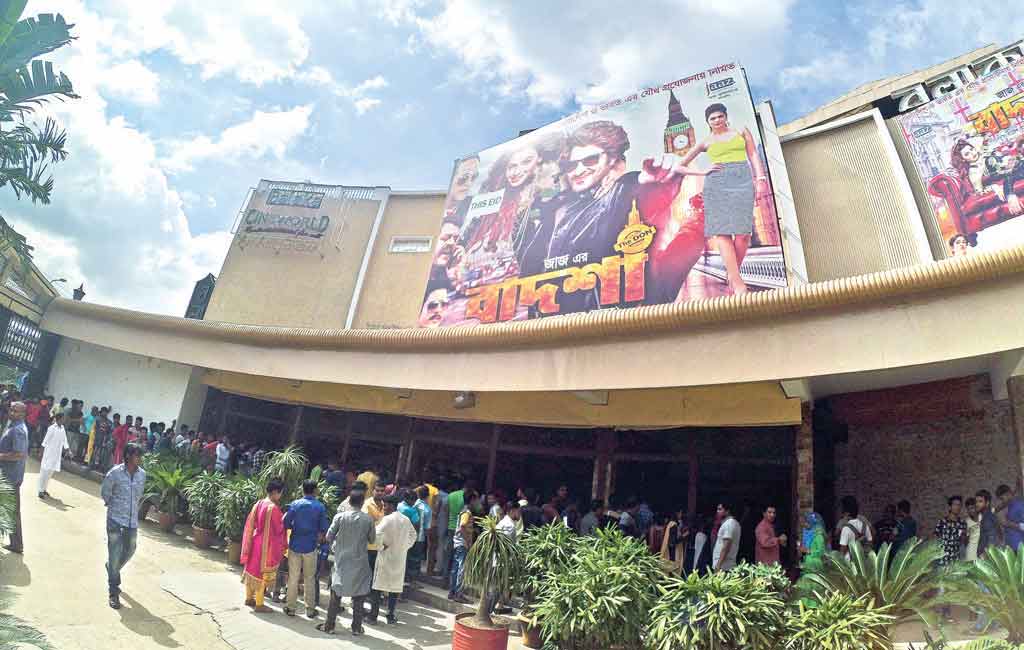 Mymensingh was once called the "city of culture." Of the 41 halls in that district, 10 have survived. The situation in Kishoreganj is even worse. There is a hall of 22 halls. It can be closed at any time. Of the 48 halls in Tangail, 10 have survived. There are six cinema halls in Sherpur. There are 3 out of 14 halls in the Jamalpur district. There are only 2 out of 16 areas in Faridpur district town and different areas of Mofasbal. Gopalganj has 1 out of 6 halls. All the cinema halls in the Rajbari district are now closed.
At one time, there were six halls in this district. Now there are none. Even worse is the picture of Shariatpur. All nine halls are closed here. In the Madaripur district, all out of 9 are closed. However, two halls called United and Universal Talkies run irregularly.
Chittagong city once had a tradition of cinema halls. There were 36 halls in different areas of the city and district. And now there are only 4. These 4 are Almas, Dinar, Cinema Palace, Sugandha. Cox's Bazar, the tourist town of the district town, does not have any of the 4 halls.
All the 3 halls of Rangamati are closed. Three halls are also closed in Kaptai. All the 5 halls of Ramgarh have been closed. Khagrachhari 6 halls are all closed. The same situation is in Bandarban. All 3 are closed.