Water Lily Village Satla. Like a water lily kingdom. The thousands of red flowers blooming in the bill's water seem to beat the red glow of the sun. The distance from Barisal Sadar to Satla village is 60 km. Bills of village Satla of Ujirpur upazila of Barisal are known as Shaplar (water lily) bills to the locals. There is no information available about when Shapla started blooming here, but it is known that three types of Shapla, red, white and purple, grow here. But the red water lily is the most common.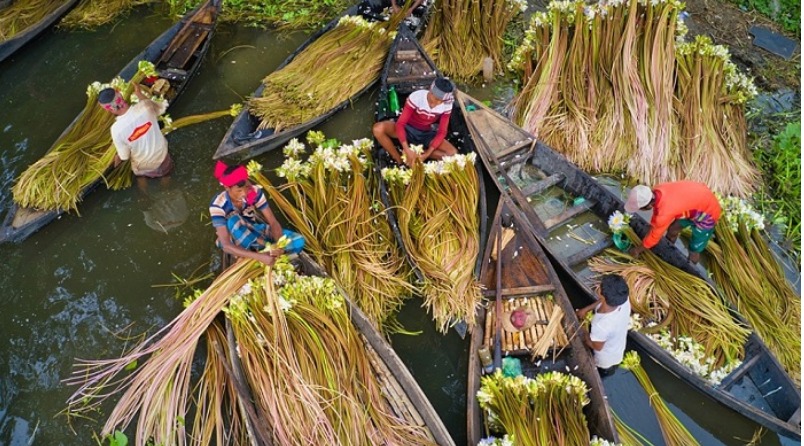 Water lily grows in about 10,000 acres of wetlands in Satla village. Most of the residents of water lily villages are therefore involved in water lily 'marketing'. Water lily flowers are supplied to different parts of the country from Water Lily Village. Satla is an ideal place for photographers to photograph water lilies.
When will you go to Satla?
Water lilies bloom here in these 3 months usually from August to October. Water Lily Village during these months of the year If you go to Satla, you will see thousands of water lilies. And if you want to see the water lily, you must go early in the morning because it is daylight
As soon as the water lily blooms, the flower blooms or the Shapla florists take the flower to sell in the market. So it is best to leave the village for a night and go to Water Lily Bill early in the morning.
How to get to Satla
From Barisal you can reach Shikarpur by bus and hire an auto to go to North Satla. Besides, while going to Barisal by bus from Dhaka, you can get down from the Nritanhat bus at Uzirpur and take an auto directly from there to see the Satla water lily bill. Or you can take a direct bus service from Nadhullabad bus stand in Barisal to Satla and Bagdha villages to reach your destination in 2 hours. Also from Barisal you can also take a Mahendra car and visit Water Lily village from Satla.
Dhaka to Barisal
It takes about 7-8 hours to go from Dhaka to Barisal by road. Various transport buses ply daily from 6 am to 10 pm at regular intervals from Gabtali Bus Terminal in the capital. Shakura, Eagle and Hanif
Transportation AC/Non-AC bus ticket price per person is Tk 600 to Tk 1300 (variable). Buses going to Barisal from Dhaka usually stop at Natullabad bus stand in Barisal city. However, launch is the best mode to travel from Dhaka to Barisal. From Sadarghat Launch Terminal between 8:00-9:00 PM
Launches bound for Barisal leave. The launches reach Barisal Ghat early the next morning. Good service launches include MV Manami, Kuakata 2, Kirtankhola 10, Adventure 1, Adventure 9, Sundarban 9, Sundarban 10, Surbhi 7, Surbhi 8,
Parabat 9, Parabat 11 and some other launches. Deck rent per person. 200-250 taka, single cabin 1200-1400 taka, double cabin rent 2200-2500 taka. And the VIP cabin fare is 5000-8000 taka.
where will you stay
There is no good accommodation in Satla. If you want to stay somewhere better, you have to go back to Barisal city itself.However, if you want to spend the night in Satla village alone, you can spend the night at Satla school or at the house of a local family. The people of Satla village are hospitable. Happy hospitality. There are several good quality residential hotels in Barisal where you can easily spend the night. significant Besides, there are several low budget hotels along Port Road and Sadar Road