Hasanul Banna (Joy)
Trip to Remakri will be remarkable in your Life. Bangladesh is bestowed with an ample amount of places to explore. From beautiful natural sites to historical places, the country has much to offer for a pleasing and learning experience.
Among the eye-catching places, the most remote and least populated area in Bandarban, which is quite a phenomenon on the tourist map of Bangladesh due to its breathtaking natural beauty and many exciting places. The beauty of its forests, numerous waterfalls, tallest peaks, and lifestyles of 15 different ethnic groups attracts tourists from both home and abroad, as it's a must-visit place for tourists.
In the middle of November 2017, we made a plan to tour the Chittagong Hill Tracts and finally decided to visit a few places in the Bandarban district, as well. My friends, Didar and Shoib, also joined the tour, which was planned by me.
Bandarban was quite new to us, as we have never been there before; however, we had collected adequate information from the internet and watched some documentaries on youtube about the area, to have learned about it beforehand.
We had collected tickets from the S.Alam bus service and started off on our journey at night. By road, the distance from Dhaka to Bandarban is 318 kilometres. The journey was quite enjoyable, however, next to the Kanchpur Bridge was a lengthy traffic jam that troubled us, however, we reached our destination by 6:30 am the next morning.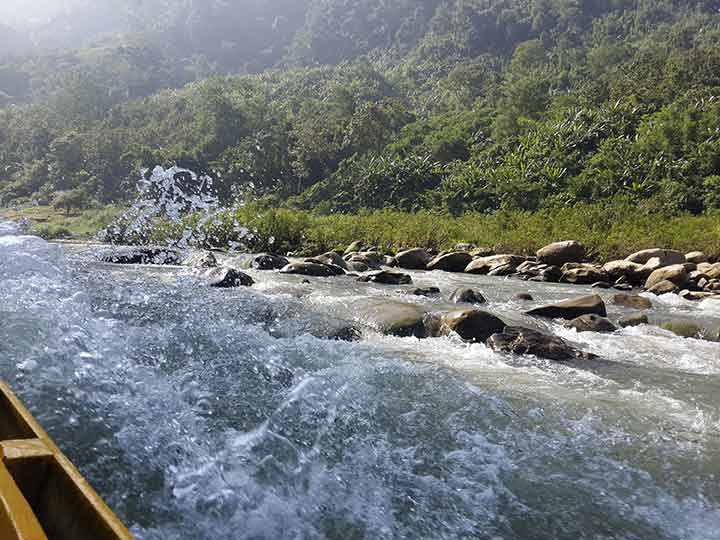 On the way, the bus stopped at a highway restaurant in Comilla, and we had some light snacks there. After reaching Bandarban town, we managed to find rooms at the Bangabandhu Smrity Pathaghar guest house, as Jahangir Alam, the caretaker of the guest house, welcomed us.
Bandarban town is very small and it could easily be covered on foot, as there is a four-wheeled common public transport in Bandarban, locally known as 'Chander Gari' (moon car). We decided to visit nearby places by the Chander Gari, as Alam, who also works as a guide, helped us to hire one for Tk 700 for the whole day.
Bandarban roads are zigzag, as sometimes, our vehicle was going uphill and sometimes downhill, which was quite a unique experience. Later, we went to see another amazing tourist spot, Meghla Parjatan Complex. Located at the gateway of Bandarban town, Meghla features a mini safari park, a zoo, boat cruises, and a hanging bridge. It is popular among all for picnics.
Afterwards, we went to visit the Buddha Dhatu Jadi, which is commonly known as the Bandarban Golden Temple. It is located in Pulpara, 10 km from Bandarban town. The temple has the second-largest Buddha statue in Bangladesh. Set atop a 60-metre hill, the temple exhibits unique Arakanese architecture (South-East Asian style) and houses Lord Buddha's dhatu (material remains of a holy person). It is believed in Buddhism that the worship of Dhatu brings peace and joy to the heart.
A tourist spot had been set up at Nilachol by the Bandarban district administration, thus, food and accommodation facilities were available there. Among the local seasonal fruits, papaya, banana, and pineapple were abundantly available. We stayed there until the evening and enjoyed the beautiful sunset.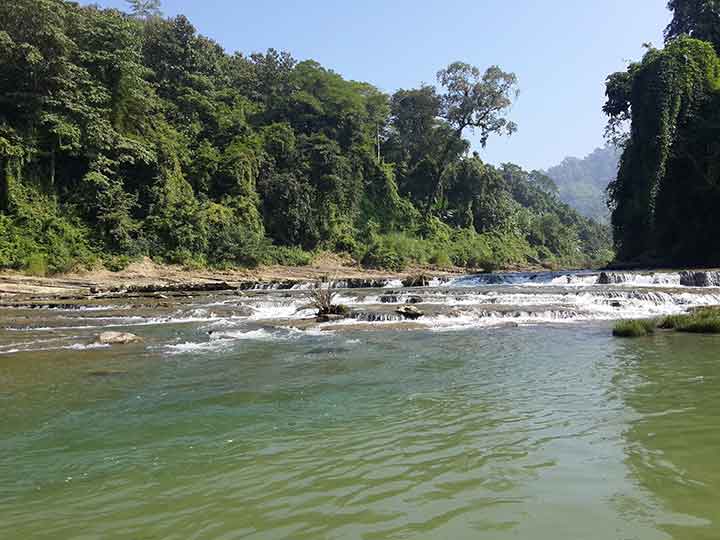 Thanchi Thana, the remotest area in eastern Bangladesh, is also a beautiful place. The Sangu River, Nafakun Falls, and Raja Pathor are the sites to visit there. By bus, it takes about four hours to reach Thanchi, which is nearly 73 km away from Bandarban town.
We decided to visit Nafakhum Falls as well; however, there was no mobile network there which means if you get lost you may turn into wildlife food. However, we woke up in the morning, had breakfast and started for Thanchi.
I thought it is better to go by bus in order to see the life of the ethnic people up close as they were getting on and off the bus on the way. After crossing the mountain road, we reached Chimbuk Hill, the third highest mountain in Bangladesh where there is a camp of Bangladesh Army.
The relationship of the mountain with the sky can be realized closely by climbing to the peak of the mountain, as before going to Thanchi, the police check posts at a place called Balipara, ordered us to enter everyone's name and address once again. However, as we reached Thanchi in the afternoon, we rested in a rest house.
The accommodation in Thanchi and Rimakri is available, but you can stay somewhere better in Thanchi if you want. In that case, there is a BGB-controlled border holiday centre where room rent will be between Tk.1500 and Tk.3000. Besides, there are some cottages and rest houses in and around Thanchi Bazaar that will cost Tk. 200 to Tk. 1,000 per person per day.
We decided to cross the Sangu River the next morning and visit Remakri, and from there to see the Nafakhum Falls. In the evening we visited the small market area there, as there were many large camps of the BGB (Border Guard Bangladesh) there, and a beautiful guesthouse of their own at the top of the hill.
At night, we set a guide and an engine-driven boat for Tk 4000. However, if you board a boat without an engine, you can see the beauty and nature of the Sangu River from a very close distance. In that case, it will take you a long time. For security purposes, if you want to go to Remakri, you must provide your name, address, and mobile number to the local police station here.
The next morning, the three of us left for the Nafakhum adventure, crossing the Sangu River. There was very little water in the river, but we had never seen such beautiful and clean water anywhere else before.
After travelling some distance along the Sangu River, it seemed as if I was entering another world, as it was an out of this world experience for me, and I was amazed to the core to see the beauty of the high hills on both sides and the lifestyle of indigenous people. As our boat sailed along the Sangu River, the number of rocks in the water increased. To me, the Sangu Nodi seems to be the most beautiful river in Bangladesh.
We reached Tindu, a small tribal village, about an hour after the boat ride. After reaching Tindu, we saw Raja Pathar (meaning King's Stone) on the way near the hills. In this part of the King's Stone, we passed numerous large and small stones. Seeing the mesmerizing view of high hills on both sides of the river, it seems that we have entered the ancient centuries of time. On the way to Remakri, we saw BGB boats at different times and the movement of tribal people.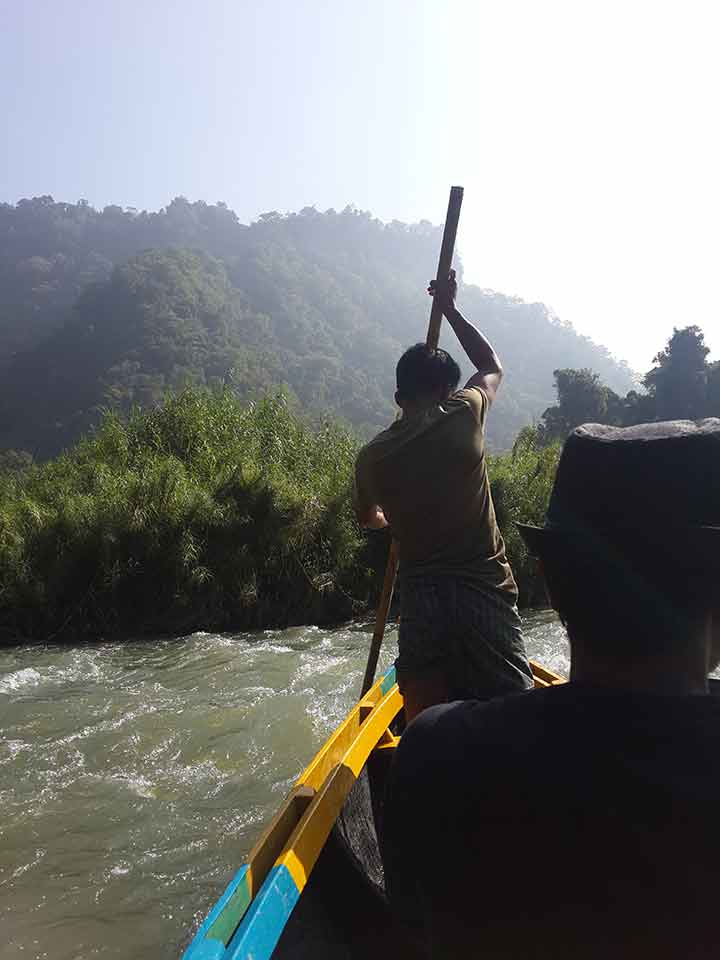 After a full 2.5-hour boat journey from Thanchi, we reached Remake, which is located in the far south of Thanchi. The distance between this union and Upazila Sadar is about 22 kilometres. The Rakhine State of Myanmar is located in the west of the area. We also learned that the famous filmmaker Maqsood Hossain made a short film called "Remake" in 2016 based on his own story and screenplay.
After reaching Remakri, a friend felt a little sick, so we decided not to go to Nafakhum. Usually, it takes the morning to afternoon of a particular day, to reach Remakri, so it wasn't possible to go to Nafakhum on that very day.
From Remakri Bazaar at night you have to go to Nafakhum with another local guide the next morning. The local guide will cost Tk. 500 and it will be fixed by your guide from Thanchi. To stay in Remakri you will find tribal houses and rest houses built by tribal along the Sangu River. A few people can stay here; the rent will be a little more or less Tk. 150 per person.
However, we went out to see the Remakri Falls, which many call the Niagara Falls of Bangladesh, and maybe the source of the Sangu River, as it is very close to it. In a very dazzling environment, we took a bath in the Remakri waterfall. We sat down by the waterfall and had lunch, and after a while of spending time there, we left for Thanchi. On the same day, we took a bus in order to go to Bandarban City and left for Dhaka at night.
Travel lovers can enjoy the beauty of the Bandarban hill district this winter. Happy travelling!