Nahida Sultana
Tonlé Sap, or "Fresh River", is a seasonally inundated freshwater lake and the attached river, the 120 km (75 mi) long Tonle Sap Lake, that connects the lake to the Mekong River, which we had the opportunity to visit last month, as we travelled straight to Siem Reap International Airport from Dhaka.
After landing at Siem Reap International Airport, we went to our hotel, kept our luggage, and had breakfast. Without any delay, we went to Angkor Wat, a UNESCO Heritage site, located in northwest Cambodia, the largest religious structure in the world by land area. Initially, we kept the whole day for exploring Angkor Wat, but interestingly we covered the whole complex in 2-3 hours.
After that, we had nothing else in the plan for the rest of the day, however, we wanted to explore local life. So, we took the help of Google and found something that attracted us- named the Floating Village! Sounds exciting, isn't it? Can you imagine a total of 170 villages with 80,000 inhabitants floating on the water in a Lake?
We instantly decided to go there and asked our Tuk-Tuk driver to take us to Tonle Sap, the biggest freshwater lake in Southeast Asia. After reaching there, we booked a boat and started for the nearest floating village (Chong Kneas) right away.
At first, we were kind of disappointed to see the muddy water and were thinking whether we should have gone back to our hotel and taken some rest because we needed to catch the bus at night to go to Phnom Penh. However, suddenly we saw some tiny houses floating on the water, and we were astonished to see the whole village floating on the water! We saw the fishermen catching fish, hammocks hanging, and young children going from one house to another using large tubs.
We were surprised to know that there's even a school floating on the lake! Not only schools, but they have a floating market and a floating church as well. The boatman mentioned, "If you want, you can donate something for the school", to which we had agreed to, and he took us to a floating shop from where people of the floating village usually buy their grocery items.
They suggested buying some essential items like drinking water, rice, chocolates, chips, etc. which will be given to children to encourage them to come to school. We bought some gifts from the floating shop and headed to the floating school. We visited the classrooms, teacher's room, deck, etc. They have a blackboard, some tables like any other school, however, it's just that everything was floating on the lake.
We had asked the boatman if we can see the houses from the insides, as he had agreed, and took us to one of the houses. Most of the houses are made with wooden platforms floating on bamboo rafts and usually consist of two small rooms, a kitchen, and a latrine that opens directly into the water. Life is really challenging here.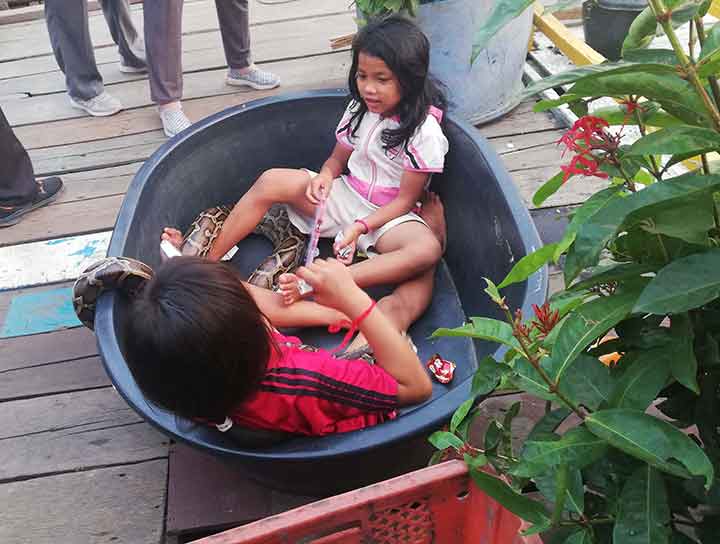 After visiting the local house, we went to a crocodile farm. It was a multi-storied structure with arrangements for eating and watching the sunset. By the time we went there, the sun was almost going down into the lake water. We enjoyed the view, took some photos and then came back to our boat. As we were slowly moving past the village, we saw most of the houses were lighten up with lights which are powered by Solar cells.
Let's discuss the tour procedure to get to the spot now.
Visa Process:
There's no embassy of Cambodia in Bangladesh, but thanks to a new program that the Cambodian Government has developed, everyone can now visit Cambodia with eVisa, which is a very easy process, that everyone can follow.
Just visit https://www.evisa.gov.kh/ with all the required documents (confirmed air ticket, hotel reservations, proof of financial solvency, and photo) and get your visa in 3 working days. However, you will need a credit card to pay the visa fee of $42.
Unpleasant Flight Experience:
We went to Cambodia from Vietnam and faced problems during boarding. There are some restrictions for Bangladeshis, along with some other countries, which aren't mentioned anywhere. We booked Angkor Air tickets to fly from Vietnam, and during the boarding, the airline officials asked, that we show them $1,000 in cash and hotel reservation proof for each person willing to visit Cambodia.
We had tried to withdraw money from the ATMs using our credit cards, but we could draw $1,000 only for two persons due to maximum withdrawing limitations. After several rounds of negotiations, the officials let us go but we had to sign a bond which said if the immigration office in Cambodia denies our entry into the country, Angkor Air will not be liable. So be careful and prepared before planning to go to Cambodia as a tourist.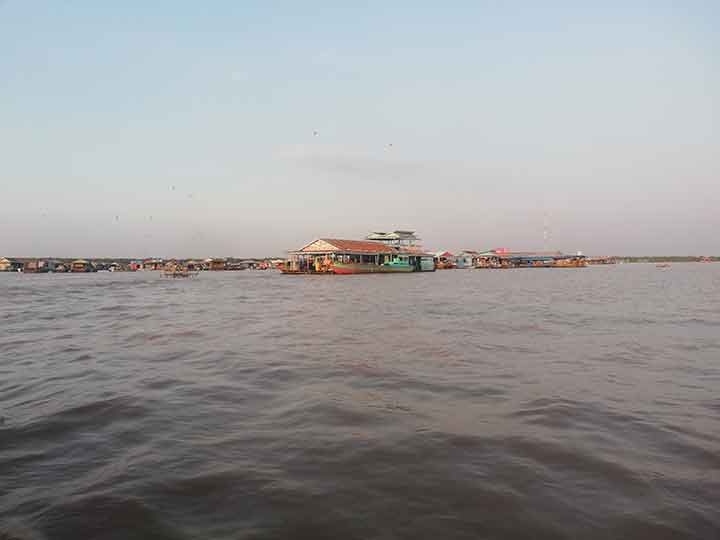 How to go:
There are no direct flights to Cambodia like Air Asia, and Thai Lion Air is the cheapest option, which usually has a few hours of transit in other countries. You can take a flight from Dhaka – Phnompenh which currently costs around $1,500 per person. It may take around 12 hours, including transit to reach Phnom Penh from Dhaka.
To get to Siem Reap, you can take a domestic flight or bus from Phnom Penh. Once you reach Siem Reap city, you can take a Tuk-Tuk or a taxi to go to Angkor Wat and Tonle Sap Water Village.
What to do:
In Siem Reap, two main tourist attractions are Angkor Wat and Tonle Sap Water Village. You can cover both places in a single day if you start in the morning. Besides, there are some other attractions you can explore if you plan to stay for more than one day.
You can visit Angkor Wat Museum which is very close to Angkor Wat Temple Compound. Another interesting place to visit is the Cambodian Cultural Village, a theme park showcasing miniature versions of important historical buildings and structures, together with local customs. There are eleven unique villages, representing the varied cultural heritage of nineteen ethnic groups.
You can also visit War Museum, Banteay Srey Butterfly Centre, Angkor Silk Farm, etc. if you plan to stay for 2/3 days in Siem Reap.
What to eat:
We recommend you try traditional Khmer foods in local restaurants. Some of the famous local restaurants in Siem Reap are: Traditional Khmer food restaurant, Cambodian traditional chef restaurant, Try Me restaurant, etc. You can also go to Pub Street at night and enjoy food and drink there. If you want to try street food, go to the "Street 60 Meter Night Market" located in front of the Angkor Ticket counter.
Where to stay:
There are plenty of options for luxury hotels and resorts as well as budget hotels in Siem Reap. Siem Reap Central Area is at the centre of Siem Reap and is close to popular tourist destinations. You can find hotels at an affordable cost in this area. Use Agoda or Booking.com to book your room in advance.
Some Travel Tips:
• Keep Ride-hailing app- Grab, Food ordering app- Foodpanda in your phone. These two services are widely available in Cambodia.
• Since US Dollar is widely accepted you don't need to convert USD into local currency.
Happy travelling.