There is a huge jungle of rows and rows of trees standing waist-deep in the swamp. The jungle is so dense that sunlight cannot penetrate the leaves and touch the water.

Many people also call it the Amazon of Bangladesh. However, the real name of the forest is Ratargul. Many wild animals and birds roam here on the branches of trees. As the water dries up in winter, the monsoon and post-monsoon period (July to October) is the best time to visit Ratargul.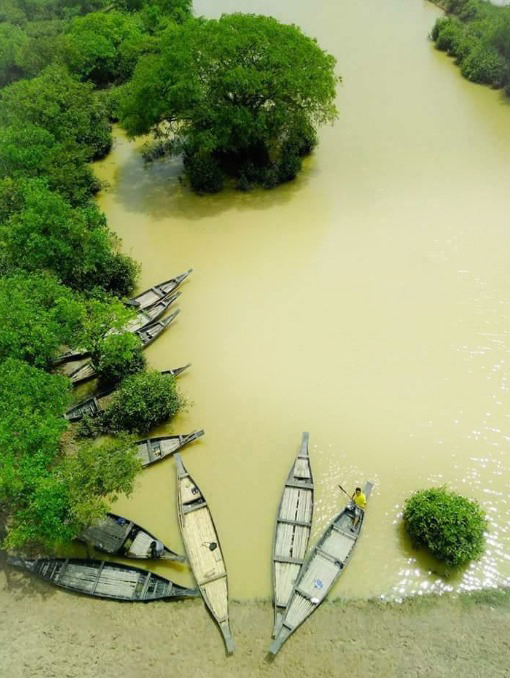 The distance from Sylhet city to Ratargul is about 26 kilometres. Location of this forest in Gowainghat Upazila of the district. This wetland covers an area of ​​about 30,325 acres under the North Sylhet Range-2 of the Sylhet Forest Department. Of this, 504 acres are forested; the rest is water bodies and a little higher elevation. However, during the rainy season, the whole area is submerged. Ratargul almost dries up in winter. Then there is only water in the big reservoirs dug in the forest.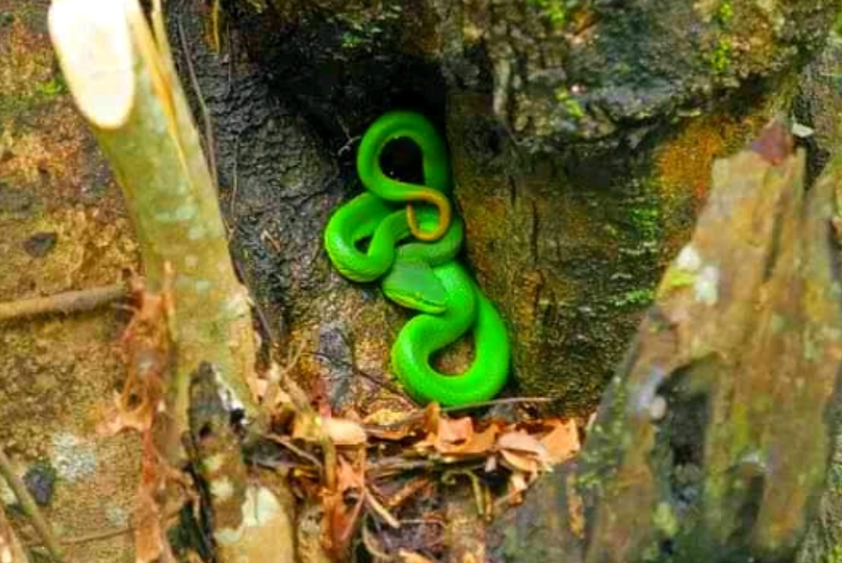 In addition to the two old large reservoirs, a large lake of 3.6 sq km was dug in 2010-11 as a bird habitat inside the Ratargul forest. In winter, various birds gather in this pond.
Ratargul is a natural forest. However, the forest department planted some water-friendly trees, including Hijab, Varun, Karach and Muta. Also notable among the plants of Ratargul are Kadam, Jalibet, Arjuna and about 25 species of water-tolerant plants.

The main ingredient for making Sylhet's Shitalpati comes from this forest. In 1983, the Bangladesh Forest Department declared 504 acres of this forest area as a sanctuary for wildlife.
There are many species of birds. These are notable among these: Masranga, various species of deer, pigeons, finches, sand ducks, pankauri etc.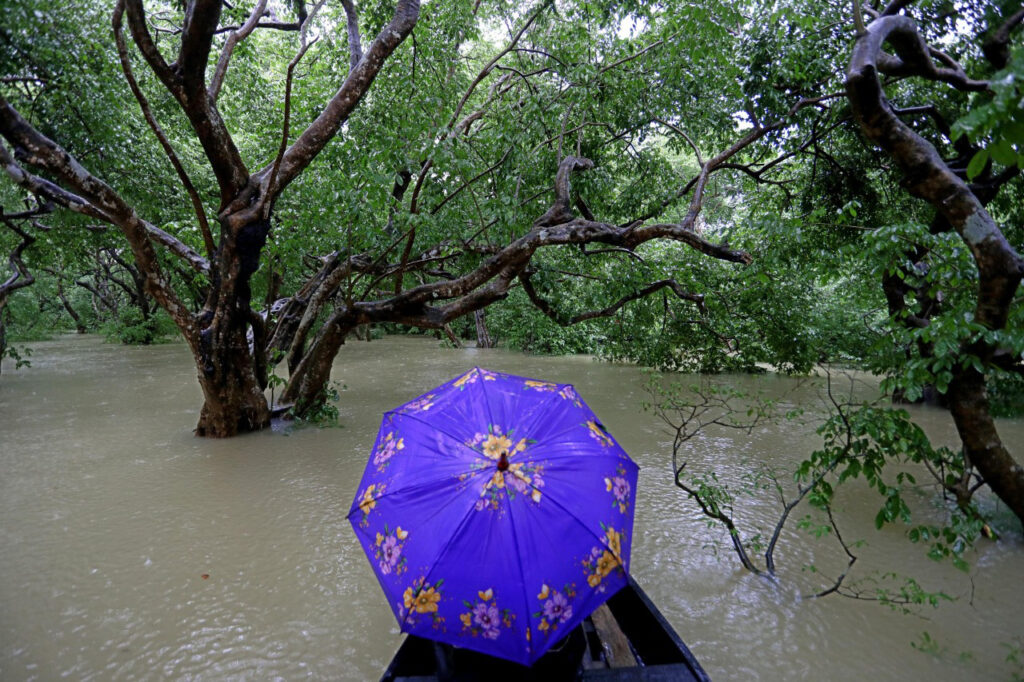 Wildlife includes monkeys, otters, squirrels, tigers, etc. In addition, this forest is a sanctuary for various snakes and various types of snakes.

The natural beauty of Ratargul cannot be written down. If you want to be interested in this forest, you have to go there. Mutar forest at the beginning of the forest. Most of it is underwater during the monsoons. After that, the forest started.

The deeper you go, the more dense the tree will be. In many places, sunlight does not reach. If it doesn't rain for a day or two, the water becomes so clear that the green reflection of the forest looks like another forest below the forest.
How to go
First, you have to go from Dhaka to Sylhet city. You can reach Sylhet directly from Dhaka by road, rail and air. You can also come to Sylhet from Chittagong. Green bus transport from Dhaka, AC bus of Sohag transport, Saudia transport goes to Sylhet. Rent from Tk.600 to Tk.1000.
Besides, non-AC buses of Shyamoli Paribahan, Hanif Enterprise, Saudia, Mamun Paribahan, Silkom Paribahan etc. also go to Sylhet from Fakirapul, Kamalapur, Saidabad etc. of Dhaka. Rent from Tk.300 to Tk.500.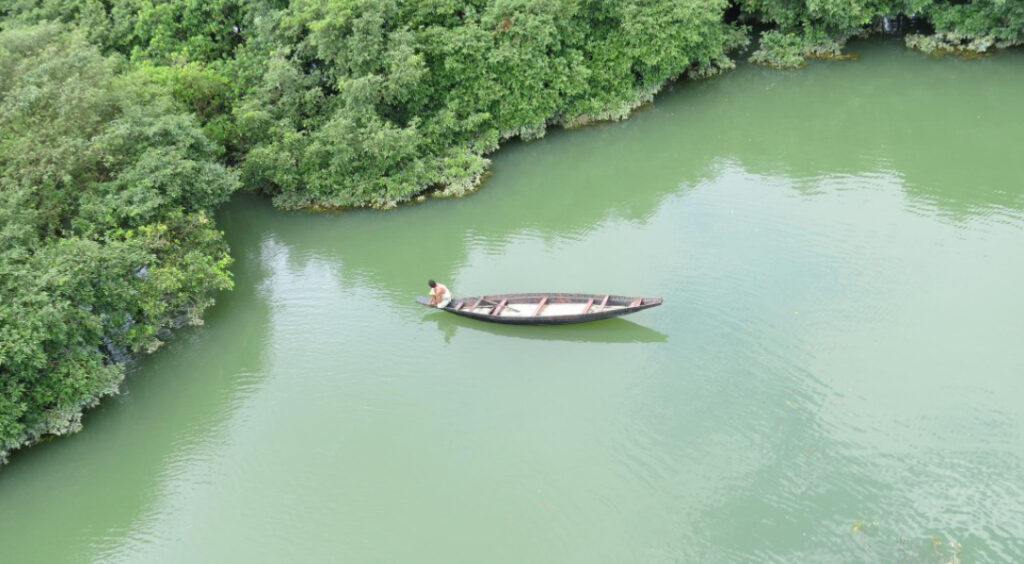 The intercity train Parabat Express leaves Dhaka's Kamalapur at 7.40 am every day of the week except Tuesday. The Jayanthika Express departs at 2 pm every day of the week.
The Urban Express leaves at 9:50 pm every day of the week except Wednesdays. The rent varies from Tk 150 to Tk 1,018.

Paharika Express leaves Chittagong for Sylhet at 8 am every day except Monday. The Udayan Express runs every night except Saturday at 9 pm. Rent from Tk 190 to Tk 1,191.
It is possible to go to Ratargul in different ways from Sylhet city. However, tourists can use two routes. The easiest and most beautiful way to Ratargul is through Khadim Tea Garden and Khadimnagar National Park next to Sylhet city. It is possible to reach Ratargul by this route in a very short time.
Bring a CNG autorickshaw or jeep to Sringi Bridge. You can go around the forest in the morning and the afternoon. A CNG or autorickshaw fare for the whole day will cost from Tk 1,200 to Tk 1,500.
If you go to local CNG from Amber Khana in Sylhet city, the fare will be 100 Taka per person.
From Sringi Bridge, you have to enter the Ratargul forest in a small fishing boat. It is possible for 4 to 6 people to go around in one boat. The rent will be 400 to 800 taka.
Besides, the other way to Ratargul is to get on the Sylhet-Jaflong car and get off at Alright. Rent 40 to 50 taka. From there, take a CNG powered baby taxi to Gowainghat Bazaar. You have to rent a boat from here to Ratargul. A boat suitable for 10 to 12 people will cost Tk. 800 to Tk for a whole day. 1,200.
If you want to enjoy the beauty of the Sari river, you can follow this path. However, the cost and time will take more in this way. Small fishing boats will have to enter the forest no matter which route you take to Ratargul.
Overnight hotel
There are various quality hotels for an overnight stay in Sylhet city. Rose View is a five-star hotel in the Shahjalal suburb. Hotel Fortune Garden in the Nairobi area. Hotel Dallas on Jail Road. Hotel Hilltown on VIP Road. Hotel Garden Inn on Link Road.
Bangladesh Tourism Corporation's tourist motel on Airport Road outside the city. Gestalt Holiday Resort in Khadim Nagar. Dry stars are the abode of nature—Nazimgarh Resort etc.
Accommodation is available at these hotel resorts from Tk 800 to Tk 20,000.
Be careful
The best time to enjoy the beauty of Ratargul is the monsoon season or the post-monsoon season. It should be noted that there are some things to be aware of when travelling. When the forest is submerged in the rainy season, most snakes take shelter in the branches or dry parts of the trees. So you have to keep an eye on the surroundings. There are also leech infestations. It is important to keep a life jacket with you if you do not know how to swim.
If you go in the rainy season, you should take with umbrella, raincoat or poncho.