Ranzit Sarkar
The Sundarbans are a group of low-lying islands in the Bay of Bengal that are notable for their distinctive mangrove forests scattered throughout India and Bangladesh. With a surface area of roughly 40,000 square kilometres, this dynamic delta region is one of the world's biggest.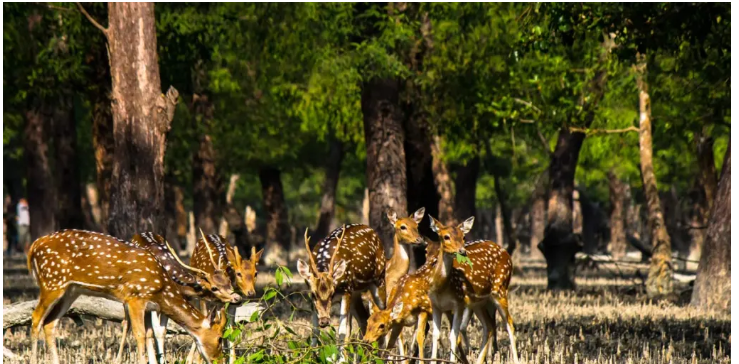 On both banks of the river, there is dense mangrove vegetation. My breath is slicing through the air like a dagger. Both the deer and the monkey are running. Various bird species can be seen among the branches.
The eyes will be on the lookout for the forest's monarch. With the flavour of such an exhilarating voyage, everyone may travel in the centre of the green. The Sundarbans is a one-of-a-kind natural wonder. It's as though nature has lavished her splendour on this woodland.
The Sundarbans change shape at least six times in 24 hours. This forest can be found in a variety of forms and guises, including early morning, midday, late afternoon, and nightfall. The allure of late-night and early-morning hours. The beauty of the mid-and deep-night sky is distinct. And there's no point if it's a moonlit night. It would help if you came here at different times to see all of its forms.
However, winter is the best time to travel with your family. The Sundarbans are Bangladesh's only international tourist destination of international calibre. Tourists visit throughout the year to enjoy the biodiversity. The size and variety of this forest cannot be fully appreciated without at least one visit to the Sundarbans.
The Sundarbans, which covers an area of ​​10,000 sq km, has 7,016 sq km in Bangladesh. The Sundarbans was declared a UNESCO World Heritage Site in 1997.
Although Bangladesh and India are adjacent parts of the same uninterrupted territory, they have been inscribed on the UNESCO World Heritage List under different names; Named "Sundarbans" and "Sundarbans National Park", respectively.
The Sundarbans are entangled like a net with small archipelagos with marine currents, mud chars and salinity of mangrove forests. 31.1 per cent of the total forest area, or 1.84 sq km, is covered by rivers, creeks and bells.
The forest is known as the habitat of many animals, including birds, Chitra deer, crocodiles, and snakes, beside the famous Royal Bengal Tiger. According to the survey, there are 500 tigers and 30,000 Chitra deer in the Sundarbans. On May 21, 1992, the Sundarbans was recognized as a Ramsar site.
What are you going to see?
The Sundarbans is home to more than 365 species, including the Royal Bengal Tiger, Chitral deer, wild boar, monkey, crocodile, dolphin, tortoise, otter, cat and wild cat. At the same time, travellers will get an immense opportunity to travel around the 450 small and big rivers and canals that are entangled like a net across the Sundarbans.
Sundarbans tourist destination
The Sundarbans, the largest wildlife sanctuary in Bangladesh, has ample opportunities for tourists to see natural beauty. However, Katka, known as Tiger Point of Sharankhola, Kachikhali Sanctuary, Karamjal Wildlife and Crocodile Breeding Center, Ecotourism Center at Kalagachhia, Nilkamal Sanctuary at Hiranpoint, Dublarchar, Manikkhali and Andarmanik are in the area.
Accommodation
There is no provision for tourists to stay and eat in the Sundarbans. If tourists want to spend the night in the Sundarbans, they must make arrangements by boat. However, if you contact in advance, you can also take the opportunity to spend your vacation in the restroom inside the Sundarbans.
Cost of travel to Sundarbans
The Sundarbans can be travelled for three days and two nights for 10 to 15 thousand rupees through a tour company. Tourists who want to visit Sundarban through tour companies usually join the tourist fleet after coming to Bagerhat or Khulna. However, many travellers travel to the Sundarbans without a tour company.
How to get to the Sundarbans
There is no opportunity to go directly to the Sundarbans from Dhaka's capital. If you want to visit Sundarbans, you have to go to Bagerhat by bus and launch from Dhaka. There are two types of buses from Dhaka, AC and non-AC. In that case, the fare of a non-AC bus will be 450 to 500 taka. It takes 6 to 8 hours to reach Bagerhat by road from Dhaka. Mongla will have to cross about 50 km by road from Bagerhat. The Sundarbans can be seen only after going some distance by boat from Mongla.
How much to pay for a trip to the Sundarbans
According to the Sundarbans travel policy, domestic tourists without sanctuary will pay a daily fee of 60 takas, minors (under 12) 15 takas and foreigners 1,000 takas per day. On the other hand, domestic tourists have to pay 150 takas, foreign tourists 1,500 takas, students 30 takas and non-students 10 takas for visiting the sanctuary area. And only for visiting the Karamjal area, domestic tourists have to pay 20 takas, foreigners 300 takas, non-arrivals 10 takas, local researchers 40 takas, and foreign researchers 500 takas.
To enter the Sundarbans, one must pay various entry fees for registered vessels. One thousand rupees for a launch above 100 feet, 800 takas for 100 feet above 50 feet, 500 takas for 50 feet, 50 takas for a trawler, 100 takas for a domestic boat, and two thousand rupees for a speedboat. Speedboat (with mother vessel): 500 takas, Jaliboat (tourist boat): 200 takas. Tourists have to pay VAT along with these fees. The launch location fee is 300 taka per day. Each ship is provided with two guards by the forest department.