SHEIKH IRAJ
Many sports in Bangladesh do not get the recognition they deserve because of the massive popularity of cricket and football. The sport of rugby is relatively new in our country, and many don't even know about the existence of the Bangladesh Rugby Federation (Union).
That been said, rugby has been played in the subcontinent for over 150 years. In Sri Lanka, rugby is the second most popular sport, and numerous tournaments are hosted throughout the year. According to Wikipedia, in neighbouring India during the British period, the first recorded rugby match was played on Christmas Day 1872, at the Calcutta Football Club (CFC) in Calcutta (now Kolkata), between England a combined team of Scotland, Ireland and Wales. The match drew a huge crowd.
In Bangladesh, rugby first gained official recognition in 2006, although introducing this sport here was conceived in 1988. Mousum Ali, general secretary of the Bangladesh Rugby Federation (Union), who was associated with a handball, first saw a rugby ball in his uncle's house.
He started reading different magazines which featured the sport. Finally, with time and cooperation from like-minded sports lovers, in 2006, the official recognition came. Today it has been eight years, and in Bangladesh, rugby is slowly becoming popular.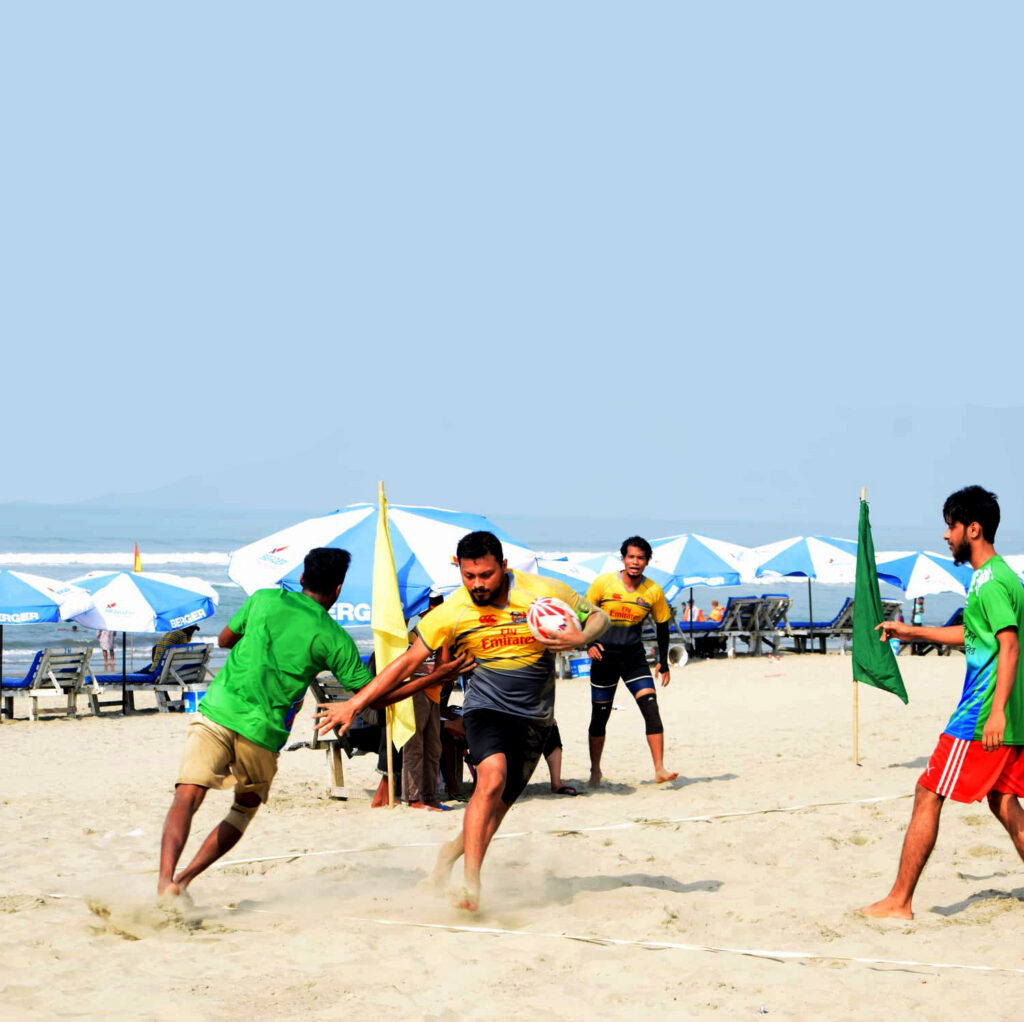 On 11th of October 2006, the first rugby association in Bangladesh was formed. In December that year, the first Rugby training camp took place in Dhaka's Government Physical Education College. 104 boys and 24 girls participated in the camp.
Bangladesh rugby has seen its hard days, as in the beginning, it was tough to find a coach. The first coach was a Japanese rugger staying in Dhaka at the time. However, the scenario has changed today, and Bangladesh Rugby Federation has 25 coaches.
General secretary of Bangladesh Rugby Federation (Union) Mousum Ali claimed that trendy rugby sport in the world, second only to soccer. "Look at the number of countries that play the sport. So we don't want any big sponsorship. All we need is more fields and balls to organise more competitions.
We have come a long way since the humble beginning in 2006, but now it's time to expand this sport throughout the country. We have observed a growing interest among the youth in the sport. We will not brag about how much we have achieved in such a short time. Instead, we can say that we are now focusing on the future of this sport in our country.
In the beginning, there were many criticisms, and it was said not many people would attend rugby matches. Still, to their surprise, every organised event was full of enthusiastic fans. Therefore, I believe in 10 to 15 years, Bangladesh will be able to reach a respectable position in the rugby world."
The national championship and eight other tournaments are held in Bangladesh every year. Despite the Covid19 pandemic, Rugby Federation made sure their players could train and organise different games in different important national observances.
In the early days of rugby in Bangladesh, only boys participated in all the tournaments, and girls only participated in the training sessions. This year, a women's rugby tournament was organised on Victory Day for the first time. Four women's teams comprising of 50 players participated in the game. The teams were from Dhaka Commerce College, Kabi Nazrul College, Central Women's College and Flame Rugby Club.
Bangladesh became a member of The Asian Rugby Football Union (ARFU) in 2014. Today 15 schools and colleges participate in rugby tournaments organised by Bangladesh Rugby Federation (Union). Dhaka rugby is gaining popularity in districts like Chittagong, Narail, Bagerhat, Faridpur and Rangpur.
Joint secretary of Bangladesh Rugby Federation (Union) Sayeed Ahmed said: "Rugby for All" was our slogan in 2015. Right now, we are preparing to take part in international tournaments. We have sufficient funds; all we need is more fields and balls. Several clubs like Victoria Sporting Club, Azad Sporting Club, etc., are forming rugby teams. And we are hopeful that very shortly, clubs like Mohammedan Sporting Club, Abahani Limited and Sheikh Russel KC will form their rugby teams. I am a sports teacher in St. Gregory's High School, and I always try to motivate my students to play rugby."
Although it's an 80-minute sport, our players are not fit enough to play the entire duration right now. Keeping that in mind, two halves of 20 minutes each are usually the duration of the matches. But when participating abroad, our boys will take part in full 80-minute games.
The rugby ball is something that Bangladesh Rugby Federation (Union) desperately wants more, as they have plans to give the balls to the interested schools. The rugby ball can be made here, but the quality is not that good, and the price is too high.
For safety, some ruggers wear leather caps, and when our national team is formed, our players will wear them. In a rugby union match, usually, each team has 15 players on the field and seven substitutes. Players are divided into eight forwards (two more than in rugby league) and seven backs. 7-a- side and 10-a-side are the most preferred versions in our country.
Rugby is indeed is a sport of stamina and skills, and we can't expect to become highly efficient overnight. Rather like all other sports, it will take time to build up the player's strengths and proficiency. Nowadays, the players who play the sport in Bangladesh regularly work out and has a diet plan. Rugby is an intense contact sport, and physical injuries can occur frequently.
To ensure that players receive medical treatment on and off the ground, Monowara Hospital has come forward. It sponsors competitions organised by the Federation and provides free medical treatment to the players.
Achievements of Bangladesh Rugby Federation
Bangladesh Rugby has completed 248 activities within 365 days of 2021. Yes, you heard it right! Let's have a glimpse of it. 21 of 7s Tournament, 2 of 15s tournaments, 3 of Sand Rugby, Beach Rugby, 32 of Grassroots Level and Rugby Festival which is 5s & 7s out of 69. They also organised mask distribution programmes in 30 different Regions. They have 131 Grass-root Level Rugby Training, 4 of Match Official & Coach Refreshers Course. Totalling 248 activities have been the most' Dynamic Year' for Bangladesh Rugby in Its 17 years golden history.
Female participation has increased by 30%. BRFU successfully made a Medical Team, Media Team, improved Tournament. Bangladesh Rugby arranged some tournaments such as Bangladesh Games 2020, Sheikh Kamal Rugby 7s Tournament in 5 districts, 1st 15a side Women Rugby Tournament, Sheikh Rasel Pothokoli 5a side tournament participated by basic rights deprived children's, Brother Ronald Memorial Rugby 7s Tournament participated by rehab centre patients, Victory Day Rugby 7s festival etc.
The contribution behind all this success was from our General Secretary, Mr. Mousum Ali, Joint Secretary, Mr. Sayeed Ahmed and Bangladesh Rugby Development Team's tireless hard work and Federation's appreciative decision of using Young Talent, Bangladesh Rugby appointed New CEO Nazmus Sakib from 2021 who is a Level 2 World Rugby Coach and previously worked as a
Rugby Development Manager for a couple of years and the 23 years old Youngest CEO in Asia Rugby history.
Inclusion of Rugby in the Board of Education was another massive success for Bangladesh Rugby. It will enable them to include 2500 schools with rugby every year by arranging tournaments and T&E program by the Government. Moreover, to strengthen the Clubs, Bangladesh Rugby innovated the idea of the District Club. Also, Bangladesh Rugby completed 40 districts out of 64 in spreading out rugby, with Rugby Development Members becoming 100 from 25 at the end. And it's where they have got 60 volunteer coaches.
Azmira Akter, Match Official of Bangladesh Rugby, became Asia Rugby Top 15 Unstoppable and Nazmus Sakib got selected as one of the Members of Asia Rugby Development Committee, which was also an excellent achievement for Bangladesh Rugby. Kabita Roy, from Rangpur, became World Rugby Youth Unstoppable in 2021.
She's 17 years old and is a Rugby Player of the Bangladesh National Women's Team. World Rugby will feature her Rugby Journey on social media, and she'll attend Women Rugby World Cup 2022 in Newzeland as Bangladesh Rugby Ambassador.
This is excellent news for Bangladesh Rugby as only 2 Women from all across Asia were selected as World Rugby Youth Unstoppable. That's how Bangladesh Rugby has made 2021 a remarkable year to remember by making 55 thousand male players, 22 thousand and 345 female players, 3 World Rugby Level-2 Coaches, 1 World Rugby educator, 530 registered coaches, 262 registered match officials involving 1 million audiences with massive activities and participation so far.