Durga Puja, one of the biggest festivals of Hinduism, is just a few days away. Goddess Durga is coming. Therefore, the festival's mood is going on among all who belong to the Sanatan religion. At the same time, the shopping spree is going on. Shopping complexes and fashion houses have already started seeing an influx of customers. Fashion designers also make clothes this time according to the needs and trends of the customers. Various arrangements are going on ahead of the Puja. Apart from this, online shopping is going on. How can this year's puja fashion be?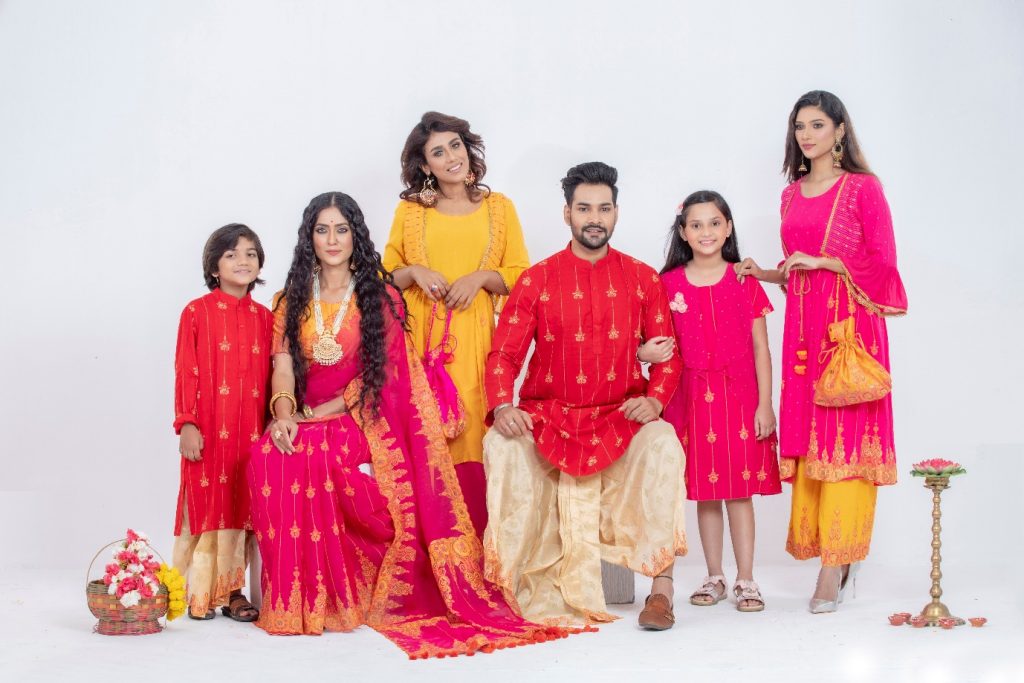 Keeping the Puja in front, the fashion houses have brought various themes, including saree, Punjabi, kameez, kurta, and one piece. Genzio is not left out of this list. As many boys don't want to wear Punjabi all day, keeping them in mind, fashion houses have come up with different designs of ganjis on the theme of Puja.
Soumik Das, the proprietor of Rang Bangladesh, said, "Our puja arrangements are always different, there are different arrangements. This time our theme is puja flower. Since flowers are one of the main aspects of worship, our designs revolve around flowers. This time our dresses have various flowers, including jaba, lotus, shiuli. These flowers are used in worship. There are sarees, kameez, unstitch three-piece, Punjabi and everything. Now that everyone in the family likes to dress in the same theme, especially on festive days, the dresses are available, keeping in mind all age groups.
As the weather has changed – sudden rain on one side and sudden hot weather on the other, fashion houses keeping everything in mind, have brought more fabrics like cotton, Andy cotton, voile or linen for most of their clothes – so that it feels less hot and dries quickly even if it gets wet in the rain.
The garments will feature cut and sew and frock patterns, empire waist, trail cut, A line, straight cut tunic, belt attachment, lantern and frill sleeves, flounce sleeves, ruffle cuffs and hem, quarter, keyhole neckline and tie-dye.
Among the colors, the use of white-red is seen more. But, at the same time, there are orange, blue, magenta, yellow, lemon, purple, Basanti and other coloured clothes. So the buyer will get the clothes of his choice easily.
As traditional dress is the top choice for Puja clothing, almost all the fashion houses are showing a segment of traditional fashion in this Puja. At the same time, there is a demand for western genre. Many are leaning towards fusion again. Various cuttings and fashions are going on. So keeping all aspects in mind, the fashion houses are trying to bring all kinds of clothes. Some casual outfits go with the puja theme. Apart from this, handloom and embroidery work is in Punjabi fashion. And there is a demand for it now. There is Dhoti Punjabi too. However, the demand for hand-painted clothes is noticeable. Various hand-painted saris, Punjabi and kurta are seen in the market. Sarees with pictures of Mother Durga, Ganesh or any other deity on the back are in fashion trend this year. You can see the fabric on any color saree.
The trend of mixing and matching clothing started a long time ago. Don't wear the same color blouse with the saree, you can choose any other color that matches. Now there is that option.
There is a need to buy more than one outfit for the Puja. And on these few days of Puja, everyone wants to decorate themselves in different ways. So there is a trend of wearing a saree one day and kameez or casual or fusion the next day. Keeping these aspects in mind, the puja clothes have been arranged this time.
Now there are many options to choose from in Puja fashion. You can choose your favorite outfit from thousands of outfits. This time, the puja arrangement should be different and unique.