From Part THREE, the reflection of memory continues.
Disadvantage Bengali Struggle, the Nightmare, fighting with our family and ourselves, and Race attacked. However, almost every day hearing the word "Paki go back to your own country", the Anti Racist Movement was the turning point that changed lives into a land of opportunity and hopes both politically and economically; those who came to the UK from the mid-'80s do not have an understanding or clue about the past.
Once again, after three months away from the school, five girls were attacked by the school.
By: Sunahwar Ali
The school atmosphere was not good for learning much where tension within the mind of racist attacks within the school and on the street coming to school and going home.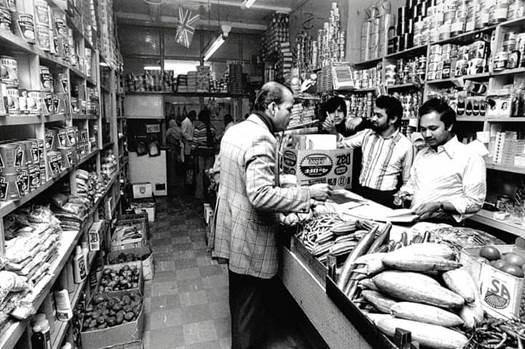 After school finished, when missing seniors Komor Bhai and Koyes Bhai that day, the tension in my mind went high about how to walk through Buxton Street. First, the small Church at the Allen Garden used to be the most challenging part to cross before ending up at Brick Lane Taj Store (Jabbar Shop) to shop daily for a home. Also, after finishing shopping most challenging part was under the railway bridge in Brick Lane before reaching Bethnal Green Road. Furthermore, the second part of the journey home was the Old Bethnal Green Road junction, where Swan Pub used to be the most challenging. So, the mind became relaxed to walk toward home, also near the house few Black children used to have a hard time but always managed to pass them without hesitation after some months of staying at the Croft House behind the Hackney Road Children Hospital.
The most crucial part of our father's most exciting parts was every time our fathers visited Bangladesh, and they were delighted and smiling -faces and took presents and gifts for everyone; such kinds of items were not available in Bangladesh in those days; many talked about how beautiful London was ( Babylon) was; all negative or complicated parts, including racism and racist attacks not even mentioned once, of life they never shared with anyone, not even their children or wife.
After my mother and sister went to Bangladesh, Abdul Jalil Bhai from our village, who later got involved with one of the founders of the Bangladesh Youth Approach (BYA, Sylhet Community Centre), started living with us. However, within a few weeks, our flat window was broken, and they took his cassette player, and he became so disappointed and decided not to live with us anymore.
A few months later, In-home at the Croft House where mother's cousin Taborok Ali (Joynal), long-distance relative Moyna Miah (Tuta), and Azad Bhai (Flying Fun Fu Kick Champion) and Nazrul Islam, older brother of Afia Begum use to live in our rented flat, and within a month our flat was broken once again. His cassette player was taken as well. He was disappointed and a month later found a place to live and left our flat.
However, my duty was to attend school early in the morning and after school, go shopping, cook for everyone, and make breakfast for everyone in the early morning. They gave me £5 every Friday, which was most exciting for me and used to discharge my mind to re-start again from Monday.