Shahrin Islam Sharno
International Language Day is observed annually on February 21. It is celebrated to increase public awareness of linguistic and cultural diversity and promote multilingualism.
UNESCO announced it for the first time on November 17, 1999. The United Nations General Assembly formally recognised it in 2002 through UN Resolution 56/262.
The United Nations General Assembly adopted it on May 16, 2007, as UN Resolution 61/266. In 2008, the International Year of Languages was declared. International Language Day was conceived in Bangladesh.
February 21, 1952, like any other country, has a history. Each passing year has increased the symbolic significance of the day for its citizens, as have all such days in other countries.
Indeed, since the United Nations designated November 17, 1999, as "International Mother Language Day," the day can be considered national and international significance in the modern era.
Naturally, the day's origins date back to when, only a few months after Pakistan's independence, many Bengali Muslims realised that their right to speak in their mother tongue would be jeopardised in the very country they had hoped to own fully. As a result of their preference for Urdu, Pakistani rulers galvanised Bengali leaders into staunch and principled opposition.
On December 8, 1947, Bengali students gathered on the campus of the University of Dhaka to demand recognition of their mother tongue as the newly formed state's official language. East Pakistan's leading intellectuals would support their demands.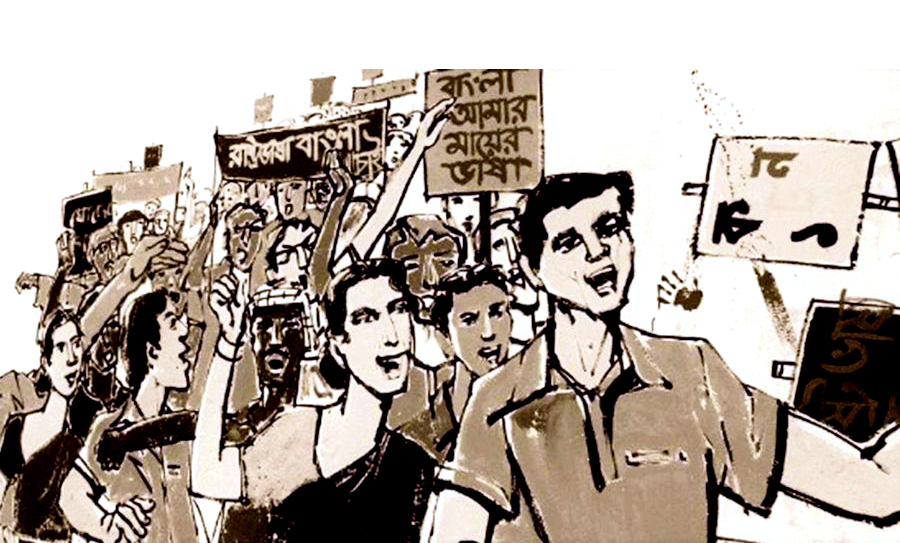 For instance, Mohammed Shahidullah, a prominent Bengali linguist and lecturer at the University of Dhaka, observed that Urdu lacked roots even in West Pakistan and declared, "If we must choose a second state language, we should consider Urdu," referring to Bengali as the first language.
By the end of the year, a National Language Action Committee had been formed, and the campaign against the imposition of an alien language at the expense of the mother tongue had gained momentum throughout East Pakistan. Then, however, on March 19, 1948, these East Pakistani leaders experienced their first significant setback.
This was the day when Mohammed Ali Jinnah, a Bombay-based lawyer who had spearheaded the Muslim movement for an independent Muslim state in India during its final stages, declared arrogantly at a civic reception in Dhaka's Ramna Race Course Maidan that "Urdu, and no other language," would be Pakistan's state language; anyone who disagreed, he declared vehemently, was a Pakistani enemy.
Anger, resentment, betrayal, and rejection were just a few of the emotions felt by many East Pakistanis. However, Jinnah was oblivious to the outpouring of dismay and outrage. In his commencement address at the University of Dhaka a few days later, he reiterated his desire to make Urdu Pakistan's sole official language.
Not surprisingly, even Bengali Muslim leaders who were instrumental in Pakistan's establishment reacted angrily and publicly to his speech. Among the protesters was Sheikh Mujibur Rahman, a young Muslim Bengali student leader who once actively campaigned for Pakistan in Calcutta but later left India to work directly for his people in East Bengal and was destined to become our Bangabandhu.
We can read about the rising political leader's growing dismay at Jinnah's position in the Unfinished Memoirs, a book Bangabandhu wrote in prison and left unfinished, but which is now widely available, as well as the attempts made by Urdu-speaking politicians in East Pakistan's leadership positions.
On that day, police opened fire on students who had gathered at the university gate and breached the police line in an attempt to halt their procession. This sparked additional protests and rallies and increased police activity, including the arrest of several demonstrating students.
The confrontation reached its zenith when police opened fire on students attempting to enter the East Bengal Legislative Assembly to present their demands. Numerous students and bystanders were killed due to this police action, including Abdus Salam, Rafiq Uddin Ahmed, Abul Barkat, and Abdul Jabbar.
A makeshift Shaheed Smritistombo, or martyr's monument, had been erected on the protest site as early as February 23, 1952. In 1957, architect Hamidur Rahman began work on a more imposing monument with the assistance of sculptor Novera Ahmed. As a result, on February 21, 1963, Hasina Begum, the martyred Abul Barkat's mother, completed and dedicated the imposing monument, which depicts a mother standing among her martyred sons, symbolically.
However, the monument would be targeted during the Bangladesh Liberation War by marauding Pakistani forces. After all, it had become the supreme symbol of the indomitable Bengali spirit to defend their culture at all costs and a constant reminder of the biggest stumbling block in Pakistan's path to complete control over East Pakistan by this time.
After Bangladesh was liberated on December 16, 1971, the government prioritised the monument's reconstruction, which was completed on February 21, 1973.
The month's major event is the enormously popular book fair known as the "Ekushey boi mela." However, Ekushey celebrations are not limited to the University of Dhaka's Ekushey monument or the Bangla Academy book fair.
This is also the month in which the Bangla Academy bestows awards on distinguished Bangladeshi writers in various fields. In addition, the government honours men and women who have made significant contributions to the arts and culture of the country by bestowing the Ekushey Padak, or awards.
Even before the millennium, Ekushey celebrations had spread beyond Bangladesh's borders to Bengali-speaking communities.