Bangladesh won three gold and one silver medal in the 2022 Asia Cup Archery World Ranking tournament stage-1 that concluded on 18 march in Phuket, Thailand.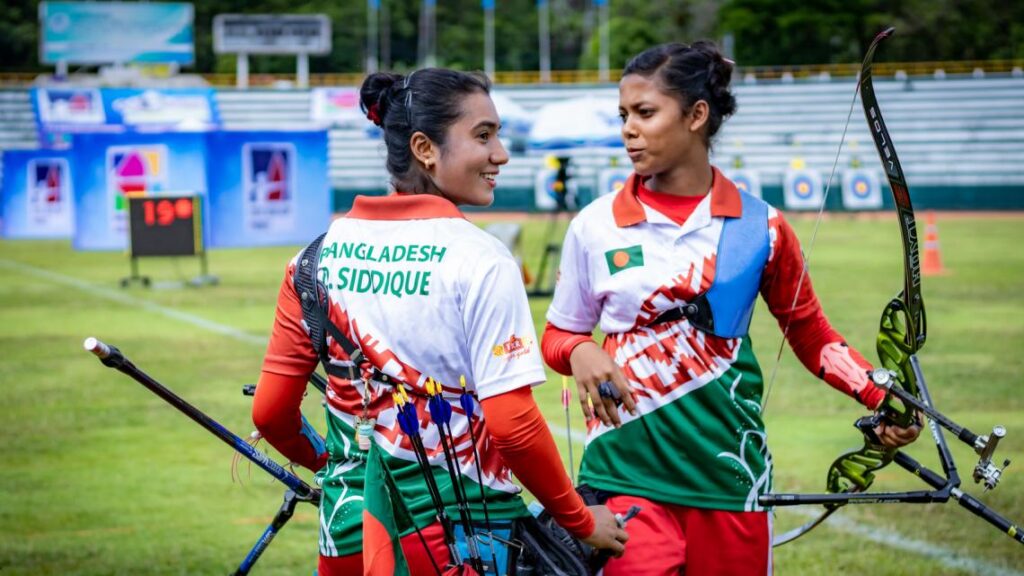 The Bangladesh archery team comprising ace archer Ruman Sana and Nasrin Akter's pair brought the first success for the country as they beat their Indian rivals by 5-3 sets in the final to win the first gold in the recurve mixed team event.
Diya Siddique, Nasrin Akter and Famida Sultana Nisha won the second gold in the recurve women's team event beating their Indian rivals by 5-4 sets in the keenly contested final. Bangladesh lost the first set by 47-48 points but bounced back with wins in the second and third set by 54-45 and 60-56 points, respectively. However, the Indians won the fourth set by 56-50 points to take the game into a tie-breaker.
Bangladesh won the tie-breaker set by 28-27 points to win gold.
Nasrin Akter won the third gold for the country as she beat her compatriot Diya Siddique by a 6-2 set in the recurve women's singles final. But unfortunately, Diya had to be content with a silver medal.
The archers are quite confident in this success of Asian archery. The Roman-Nasrin want to do well in the Asian Games with this confidence.
Nasreen Akhter said, 'I was confident that I could do better. But, alhamdulillah, I have won all three golds. I will try to keep this confidence. We can do well in the upcoming Asian Games and Islamic Games. '
In this year's Asian archery, women are more successful than men. The male archers did not perform as expected. Roman Sana said, 'The coach has done a lot of work. While the boys have not been able to meet that expectation, the girls have made up for it. '
Bangladesh Archery coach Frederick Martin said, "I am thrilled with the girls' performance in this year's event. The success of Nasrin-Dia is excellent for us. Hopefully, they will continue the trend of success in other international events, including the Asia Cup.