Bandarban is called 'Paradise' because of its natural beauty. Devtakhum is one of the places that has made the natural beauty of Bandarban more captivating.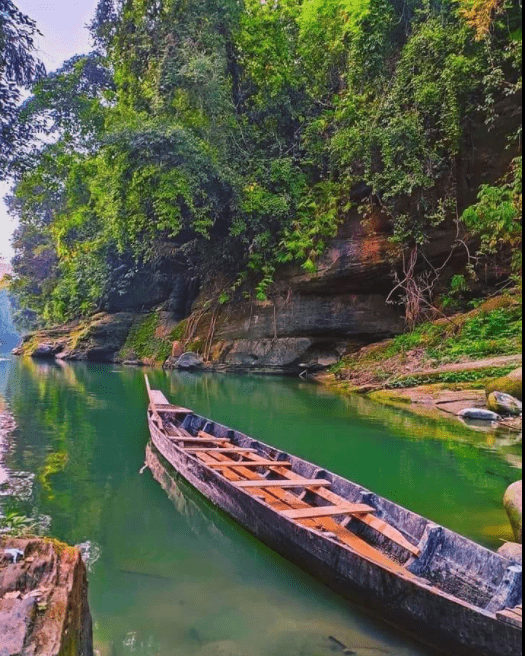 According to the locals, about 50-60 feet deep, this Khum is 600 feet long, much bigger than Velakhum and much wilder. The name Devatakhum comes from Devata and Khum. The word Khum means spring or waterfall.
If you want to go to Devatakhum, you must first go to Bakandarban. After that, you must go to the Kachpatali army camp in Roangchhari and obtain permission to enter. You must trek to Shilbandha (Liragaon). The sealed area should be used to create a strong bamboo valve. First, you must cross the Pong Su Aung Khum. Devatakhum begins after passing through Pong Su Aung Khum. Sonakhum is how the locals refer to it. Thangchikhum is another name for it in the Marma language.
Devatakhum is as beautiful as it looks horrible. When you go in the rain, your eyes will be covered like a trail jhiri / mountain. There is also a danger of slipping on slippery rocks. There is no noise outside the mobile network.
The atmosphere will feel more haunted by the sound of boiling water. The path has gone through the middle of two huge mountains. This way, we have to pay for the raft. You can enjoy nature up close here. As if to merge with nature. The way to go will tell you – how beautiful the way to heaven can be.
Devtakhum is located in Shilbandha Para of Roangchhari Upazila, 20 km away from Bandarban district town. The depth of Khum is 50 to 60 feet. It is much larger than Velakhum, another popular tourist destination in Bandarban. In just 2-3 thousand takas, you will be able to come back for a day-long tour from Devtakhum.
Before going to Devatakhum, you will see a small Khum. Whose name is 'Pong Su Aung Khum'. You have to swim in this Khum or hang on to the tree's roots and hang in Devatakhum. Its path is as beautiful; That's terrible. In the rainy season, the water level rises. It isn't easy to go there then.
There is also a danger of slipping on a slippery rocky path.
There is no way to Devatakhum without a raft. Go as far as you can with the raft; The place will be so narrow! In areas where sunlight does not penetrate the shore. June to January is the best time to visit Devatakhum. When it rains, Khum is full of water so that you can take the raft a long way!
The way to go to Devatakhum
If you want to go to Devtakum, you must go to Bandarban first. All types of AC / non AC buses go to Bandarban from Dhaka. Non-AC buses will be available to transport Shyamoli, Saudia, Unique, Dolphin, Saint Martin, S Alam etc. Buses leave from Kalabagan, Fakirapul and Sayedabad. Rent from 580 to 720 taka. AC bus fare is between 1000 to 1500 taka.
If you want to go by train, you have to get on any train from Dhaka to Chittagong. Many trains, including Sonar Bangla Express, Subarna Express, Turna Nishitha, Chattala, Mahanagar and Godhuli, leave Dhaka for Chittagong. Train and seat fares range from 200 to 1,000 taka.
Buses from Chittagong to Bandarban depart from New Bridge, Dampara and Bahaddarhat bus terminals. From Bahaddarhat, two buses named 'Purbani' and 'Purabi' leave 30 minutes in a row. Rent 220 takas.
If you want to go to Devtakhum from Bandarban, first you have to go to Kachhapatli Army Camp in Roangchhari Upazila. But, first, you can go to Roangchhari by bus, and then from there, you can take CNG to Kachpatali. Buses leave Roangchhari from Bandarban every hour, and the fare is 80 taka.
The CNG fare from Roangchhari to Kachhapatli is around 150 taka. You can also take a jeep directly from Bandarban to Kachpatpali. Jeep rent 1800 taka. One jeep can seat 12/13 people.
Where to eat?
There are many restaurants next to the bus stand. Breakfast will be between 50 to 60 rupees. Arrive at Kachpatali and order lunch before starting trekking. Otherwise, you will not get food later. They will cook as soon as you order. You will get mashed chicken, pulses and mashed potatoes. The cost of food will be around 100 to 150 taka.
Where to stay
If you leave Bandarban for Devtakum in the morning, you will be able to reach the city again in the evening. So if you want, you can return to Dhaka or your destination on the same day after dinner. If you're going to stay, there are several hotels of different quality in Bandarban city.
Devatakum Travel Information and Alerts
>> Photocopy of National Identity Card or any other photo ID is required to go to Kachpatali and report to Army Camp. Only then will you be able to enter Devatakhum.
>> You will not get network on the phone after the tortoise
>> Use trekking boots for trekking. If you want you can wear plastic or rubber sandals.
>> Take a life jacket with you to ride the raft.
>> Do not take pictures of indigenous people without permission.
>> Refrain from environmental pollution.