Bangladesh foreign minister visits Apasen's head office in London.
Foreign Minister Dr AK Abdul Momen recently visited the head office of Apasen International in London that works for improving the lives of vulnerable people with learning disabilities, autism, and other special needs in urban and rural communities in Bangladesh.
CINEBUZZTIMES DESK
The international non-profit organisation, which was established in 2013, also advocates for the full inclusion of people with disabilities in society and provide information, advice, and support to families and carers.
In association with local partners and stakeholders, the organisation provides a wide range of services in health, education, and poverty reduction for children and adults with disabilities and reduce levels of discrimination and stigma.
During the visit to the Apasen Day Centre, the foreign minister lauded the activities of the specialised school and model day centre established in Sylhet under the initiatives of Apasen International.
The minister informed us that the government of Bangladesh is committed to addressing the needs of people who are differently-abled by integrating them into society.
He urged all to be more humane in building a liveable society for the people with special needs. "Autism is not a disease. It is a special situation that requires much care."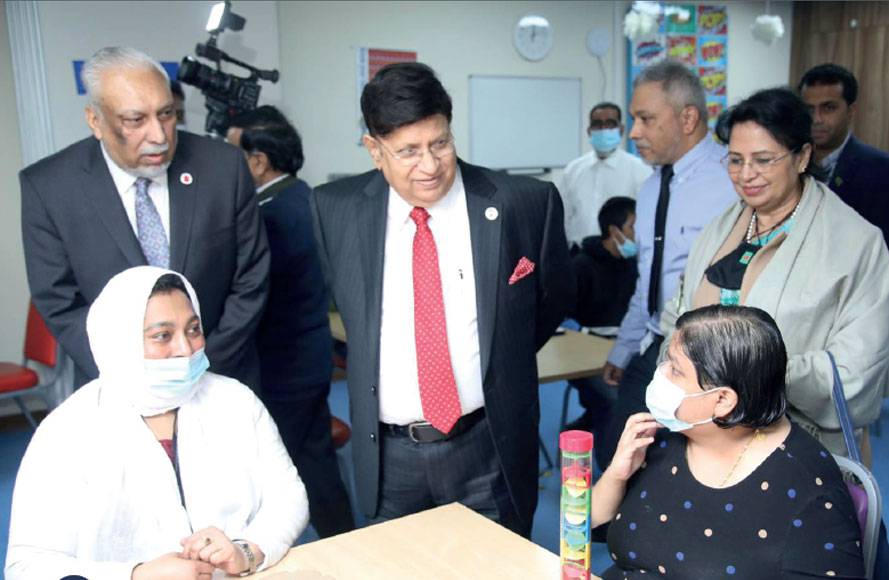 Mahmud Hasan MBE, chief executive of Apasen International, briefed the minister about the various activities of the Apasen learners.
The chief executive, on behalf of the board of trustees, presented a crest to the foreign minister.
Mahmud Hasanin formed that Apasen International will start working on a larger scale soon to meet the specialized needs of the underprivileged people of Bangladesh.
Meanwhile, Apasen International will hold a Home Care Recruitment Day on November 10 and 11 during office hours at its Home and Community Service (Redbridge) centre, which is located at 344–348 High Road, Ilford, Essex IG1 1QP.
The organisation invited the interested residents of Redbridge and surrounding areas to visit the centre on that days.
It offers many facilities including pension scheme, professional development, free training, care certificate, fully-funded H&S care diploma, employee award scheme, round the clock office and community support, competitive salaries (starting from LLW @ €10.85/hour), fast track recruitment, fixed working hours p/w (depending on business needs), career progression, immediate start.