The life story of Sharifa Shabnam is a little bit different from the norm. My spouse, Abir Hossain, formerly worked for a private company, and the compensation he received there was very satisfactory. They were known for being a really happy family. But on December 5, 2016, her life was thrown into disarray when the man she was married to was killed in a car accident. It was because of his two kids that he got in trouble. It's been six months since I started considering my options for what to do and where to go.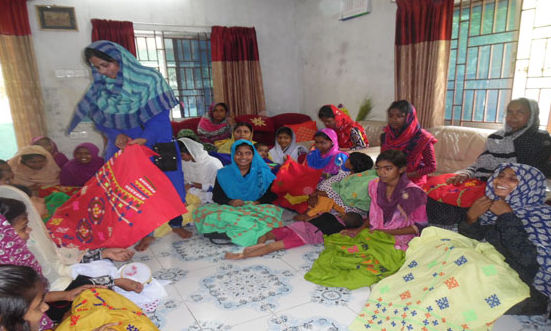 Even though a major storm struck her life, she did not surrender. He understood how the shop operated. He pondered whether he might utilise this experience in any way. She ceased sitting after receiving instruction from the Jayita Foundation of the Department of Women's Affairs and connecting her name with the "Sneha Boutique House" on Taj Mahal Road in Mohammadpur. Initial embarrassment notwithstanding, Shabnam did not need to look back. She is currently a successful female businesswoman. Today, despite being a woman with her own ability and labour, she is independent.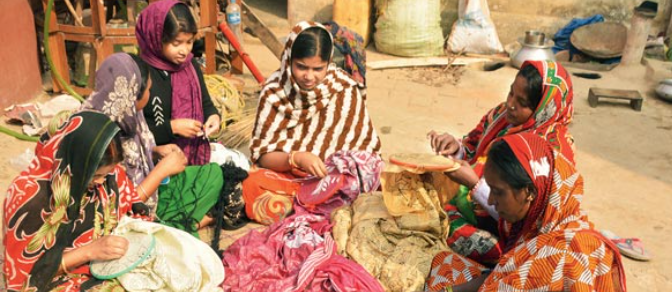 Sharifa Shabnam and many other women like her have also become successful business owners. They used to be backward and forgotten by society, but now they are strong, independent women. They are building factories and hiring millions of people out of work. But the most important thing is that he helps the country's economy in a big way.

The country's economy is now getting stronger because of these victories. IFC, part of the World Bank Group, says that women in Bangladesh now own about 2.4 million small and medium-sized businesses. But most people who want to start their own business have to get past many problems and get rid of the thorns in their way.

A survey found that 31.6% of all business owners in Bangladesh are women. Women in this country learn how to be entrepreneurs by working in an unfriendly environment. The survey found that 34.6% of business owners in Uganda were women, 31.7% in Bangladesh, and 31.4% in Vietnam. In low-income countries, women don't have many business opportunities, so most start their own businesses because they have to. So these women make the most of every business chance.

Nasreen Fatema Awal, president of the Women Entrepreneurs Association of Bangladesh, said family and social barriers were once major barriers to women becoming entrepreneurs. In the beginning, there were obstacles from the family.

No family member could accept that she would do business like a girl. Without it, society would not look well. Hopefully, that situation has changed now. There is no such thing as a family or social barrier for women to become entrepreneurs. The big problem now is the economic crisis. Women are mainly dependent on their husbands or fathers in the family. He does not have much capital of his own.

So if a woman wants to be an entrepreneur, it becomes difficult to provide money. Banks are lending to women entrepreneurs in some cases, but it is not enough, and not everyone gets easy loans.

So, it's hard for a woman who wants to be an entrepreneur to make money. Some banks give loans to women business owners, but not enough, and not everyone gets an easy loan. Even though there are a lot of problems, it is a huge relief that the number of women entrepreneurs in Bangladesh has grown despite all of them. Because women make up half of the country's population, keeping half of the people inside four walls will never help the country grow. To help the country's economy, women need to be able to take care of themselves.

He also said that women could be successful investors if they get loans with easy terms and 4–5% interest rates. But women have to go through a lot of trouble to get a loan from a bank. So a separate bank for women entrepreneurs, which would make it easier to get bank loans, has been asked for a long time. In 2005, a proposal was made, but no response was given. So the government needs to think about this now.
Many government and non-government groups are working to help women in the country start their own businesses. For example, the Women Entrepreneurs Association of Bangladesh Women's Chamber is working to help women become entrepreneurs independently.

The SME Foundation, BSIC works to help women start their own businesses at the government level. But the Jayita Foundation, which is part of the Department of Women's Affairs in the Ministry of Women and Children's Affairs, is doing the most important work right now to help women become business owners.
According to the Jayita Foundation, about 14,000 women entrepreneurs have been created through 160 associations since 2011. From the foundation to boutiques, beauty parlours, and food preparation to training in several subjects, entrepreneurship builds backward women in society.

Afroza Khan, managing director of Jayita Foundation, said that Jayita Foundation does not do business on its own in the light of time. Women entrepreneurs do business directly on Jayita's platform here.
The Jayita Foundation gives women entrepreneurs the knowledge and skills to run a business, make products, and build infrastructure. Helps with loans if money is required. To create Jayita's brand value, the Jayita Foundation gives much-needed help to promote products or services that can be sold, such as quality control. No one is a woman business owner;

The women entrepreneurs organised in the association market their products under one roof in different stalls of the association under the brand of Jayita. Jayita Foundation works to create a business-friendly and women-friendly environment.

Members of the Women Entrepreneurs Association have a right to share the business's profits based on how much they put into the business. In a market system with other competitors, women business owners learn what their businesses do well and what they could do better. So, the parts of the Jayita Foundation that could cause problems are always trying to run their business well.

During the epidemic, many women have started their own businesses. Women also run businesses through social media like Facebook and YouTube.