Tangail Sari has always been a part of our culture, history, and traditions. Since the beginning of time, the skilled people of Tangail have been making different kinds of woven cloth. The famous traveller Ibn Battuta and Hiuen Tsang wrote about Tangail's weaving industry in their travel books. Also, Tangail is known all over the world for weaving sarees. This skill has spread beyond the country's borders.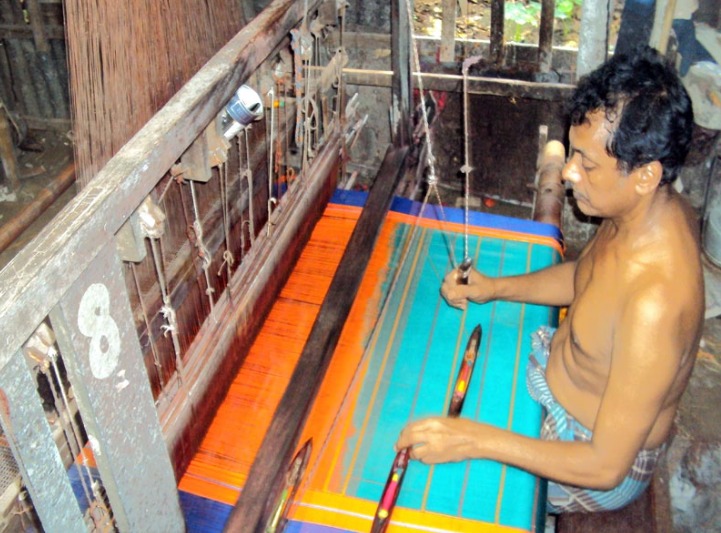 Bengali women have worn the traditional sari made by Tangail weavers as a style sign for hundreds of years. In this sari, you can see what a conventional Bengali woman looks like. The weaver sari and Bengali women have been together for a long time.

The tradition of this sari was lost in the 70s with the help of block, batik and print sarees. But now the tradition of Tangail saree has come back. So now the fashionable women of the city are also choosing cotton sari.

Tangail sari reading has an artistic touch as well. How to wear this sari depends on your body type most of the time. On the other hand, Thin sarees are always more comfortable to wear. Again, this kind of saree can be worn to look different on special occasions like Eid. The sari that is woven with white will be simple and elegant. The clothes must be right.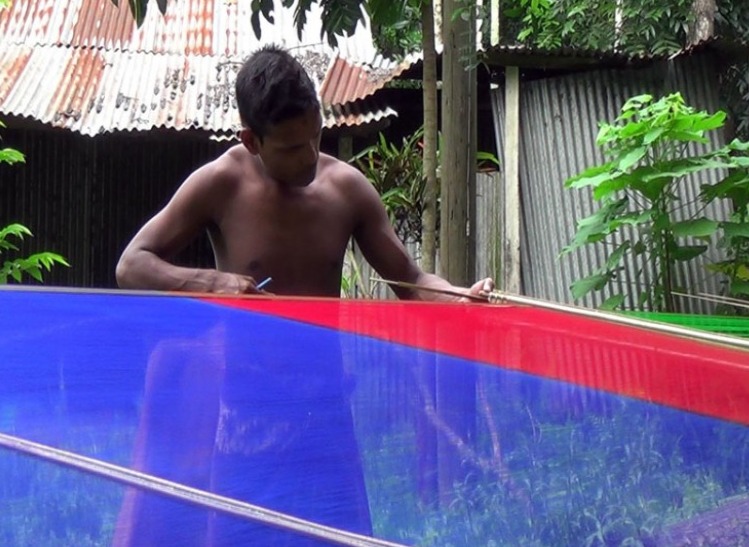 Tradition:
The weavers of the Basak class weaving village of Tangail are working to maintain the popularity of weaving sarees. It is not known precisely when the weaving industry developed in this region. However, it is known that this loom is more than a thousand years old! They have been weavers for generations. Tangail weaver's sari is so famous that many people understand only weaver's sari as
The people who make sarees in the Basak class weaving village of Tangail work hard to keep making them popular. No one knows exactly when weaving became a big business in this area. But this loom is known to be older than a thousand years! So they've been weaving for a long time. Tangail weaver's sari is so well-known that many people call it weaver's sari. As the weavers work, one sari after another is made. The finer yarn used to make this sari makes it very soft and comfortable. When making a sari, its quality of it is taken into account. The way it is woven, the colour, the pattern, and the length are all different from any other sari.

Features:
The sari of Tangail is made by hand. Due to the plans of foreign merchants, muslin cloth has been lost over time. But its successful successor, the sari made by Tangail weavers, is still around today. In the early 1990s, there was a massive change in the tangled business. Tangail cotton saris and Tangail soft silk saris were made at this time. This sari quickly became popular because of how well it was made and how nice it looked. Madhavilata, Padmapar, Kunchalata, Terabi, Morbi, and Latapata Par sari were more popular. The weavers of Tangail have brought variety to the world with their own experiences and the needs of the time. Apart from soft silk and half silk, Baluchari, Jaripar, Swarnachur, Ikkat, Anarkali, Devdas, Kumkum, Sananda, Hazarbuti, Sutipar, Katki, Nilambri, Mayurkanthi, etc. are also made in Tangail.

Tangail weavers make their saris with a lot of care and deep concentration, and the work is done in a very beautiful and delicate way. Men and women make saris by putting together the things that make them feel good. Sisters are spun and woven by men. All of the women in the housework together to dye and embroider. The weavers make it more beautiful by putting designs like flowers on the ground of the sari.

Bargain:
Prices for saris vary depending on their texture, colour, length, how well they were made, etc. It has been set at a price that works for everyone. But jamdani and silk cost more than most other things. Tangail's tat sari is becoming more well-known abroad because it is popular at home. However, it is known all over the world. It is well known in Europe, the United States, Japan, Saudi Arabia, India, and other places.
Tangail sari is available in various shopping malls, markets, and fashion houses.
Apart from soft silk and half silk, Baluchari, Jaripar, Swarnachur, Ikkat, Anarkali, Devdas, Kumkum, etc. are also made in Tangail. Some of these sarees are priced as follows:

Sari price;
Soft Silk 950-5000 taka,
Soft cotton 750-3500 taka
Baluchari 1400-2650 taka
Tassar silk 1900-4500 taka
Sambalpuri 750-3000 taka,
Silk Katan 2500-10000 taka,
Other saree are between 800-5000 taka.

The people who wear saris are like India's upper class. The sari of Tangail helps meet the demand for saris uniquely. Tangail Sadar, Kalihati, Nagarpur, and Sakhipur upazilas have more textile work than the other upazilas in the Tangail district. Some villages in the Gopalpur and Bhunapur Upazilas also have weaving industries. In all of these villages, knocking can be heard day and night. Tangail is a place where a lot of sarees are made. And this industry will grow even more by giving proper pay, encouragement, and government grants to those who are working hard to make Tangail and the country well-known around the world with only saree