Shakib Khan, the film's star from Dhaka, will have his movie shown there for the first time. The movie "Galui" marks the beginning of Shakib Khan's career in this field.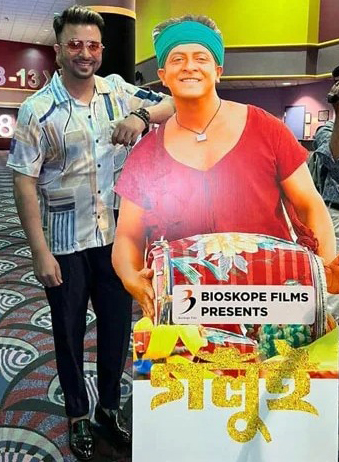 The movie will debut on July 16 at the Jamaica Multiplex in New York. Shakib's co-star in "Galui" was Pooja Cheri. Bioscope Films distributes Golui around the nation. The Jamaica Multiplex had 28 performances in total up until July 21.
Additionally, the film is screened for a month in a number of states across the USA. The film's director, SA Haque Alik, is currently residing in New York City in preparation for the film's release. The first film's debut in the United States excites Shakib Khan. Shakib Khan attended the film's premiere on July 14.
The president and chief executive officer of Bioscope Films spoke about the debut of Shakib Khan's film in America. Raj Hamid informed the news media that we have been working hard for a while to introduce Bengali cinema to the international market because we want healthy movies and healthy entertainment to succeed worldwide. Additionally, this government-funded movie will soon be shown in American theatres.
Alik, the director of the movie, declared: "We are going to give a complete Bengali movie to the American diaspora.
Along with you, I am also ready. I'm hoping that everyone will like the movie. During the previous Eid-ul-Fitr, the movie Galui was released in Bangladesh. Khorshed Alam Khosru is the film's director, which the government supported.