St. Martin's Island is the main attraction for those thirsty for travel in the country. The centre of attraction of St. Martin is the coral. Animals are big and small, vertebrates and invertebrates. These coral-rich islands are home to most of the animals and plants of the sea. Animals are big and small, vertebrates and invertebrates.
Every year millions of tourists set foot in St. Martin's. The tourist season in search of the aesthetic coral wall at low tide, the flying Ganchil. The beauty of the sunset is seen from the west beach, the gentle breeze, and the clear blue waters of the shallow sea.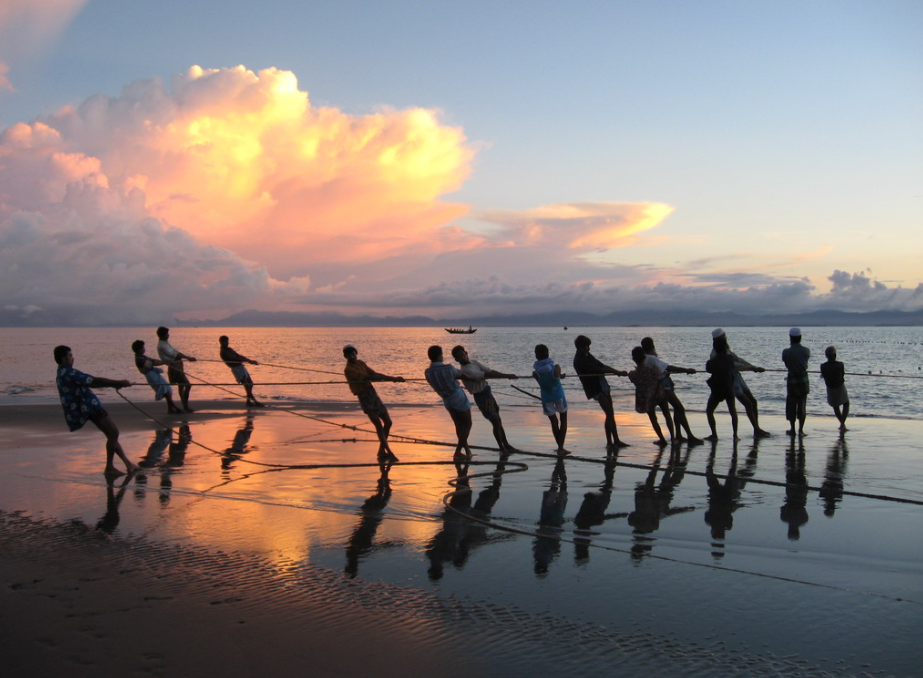 St. Martin's Island is Bangladesh's southernmost point. A popular tourist destination for sightseeing and sightseeing. It is a small island located 9 kilometres south of Cox's Bazar's Teknaf Upazila. It is located at the Naf River's mouth, 6 kilometres west of Myanmar's northwest coast. Locals refer to it as "coconut ginger." St. Martin's Island is approximately 6 square kilometres in size and runs north-south. The island's three-sided foundation is made of rock that sinks during high tide and rises during low tide.
If you hold these, they will cover an area of approximately 10–15 square kilometres. The island is about 5.63 kilometres long in both directions. The island's width varies between 800 and 200 metres.
Numerous rock formations extend far into the sea to the island's east, south, and west. St. Martin's Island is located 3.6 metres above mean sea level. Consequently, the 9.8-kilometre-wide channel connecting the mainland and the island is significantly shallower than the open sea to the island's southwest.
There is a 10–15 km coral wall running along the west-northwest side of the main island and several smaller islands ranging in size from 100–500 square metres, locally referred to as Chheradia or Siradia (Chhera Island). Chhera Island is Bangladesh's southernmost point on the map. After this Island, Bangladesh has no other territory.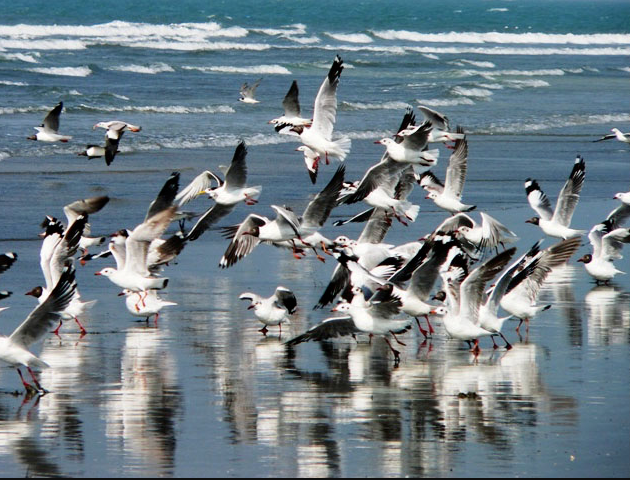 Chhera Island's connection to the main island (locally referred to as Galachipa) is slightly lower, which causes it to sink during high tide. Thus, you can walk to Chhera Island at low tide, but you must take a boat at high tide. The best way to get to the west beach is to walk from the northern end. This tranquil path will engross you in your thoughts.
St. Martin's Island's topography is primarily flat, with some dunes visible. The islands and adjacent seas are densely forested with plants and animals. Invertebrates are found here. Sponges, shill crabs, monkey shill crabs, and lobsters are just a few examples. In addition, there are fairy fish, butterflyfish, bowl coral, red koi, roopchanda, needlefish, redfish, and murukku fish. Additionally, the area is well-known for sea turtle nesting, including green and Jalpairanga sea turtles.
The round-leaf Ipomia vine grows here. This plant, which generates the first vibration of life in an adverse environment, has funnel-shaped white-purple flowers. Keya, Shawra, Sagaralata, and Bain trees are found here.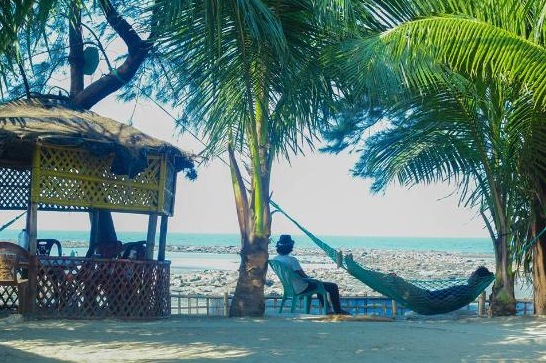 How to get there:
There are a variety of ways to reach St. Martin. To accomplish this, we must first travel to Cox's Bazar. You can also take a bus directly from Dhaka to Teknaf. Numerous modes of transport connect Fakirapul and Sayedabad in Dhaka to Teknaf. Time required for travel: 10–12 hours. Bus fares are typically between 1000 and 2000 Taka. Alternatively, you can travel to Cox's Bazar first and then to Teknaf from there. Cox's Bazar is also easily accessible by plane from Dhaka.
You can reach Teknaf from Cox's Bazar by renting a local bus, CNG vehicle, or microbus/jeep. Depending on the situation, it takes approximately 1-2 hours from Cox's Bazar to Teknaf. The rental fee is between 150 and 300 takas, depending on the vehicle.
7-8 ferries operate between Teknaf and St. Martin during the tourist season (October to March). Carey Cruise and Dine, Sindabad, Atlantic, Bay Cruise, Karnafuli, and Green Line. Additionally, this sea route is frequented by trawlers and speedboats.
It takes two and a half hours to reach St. Martin from Teknaf. The ferry's return fare ranges between 550 and 1000 rupees. Every day at 9:30 a.m., the ferry departs from St. Martin's Jetty for St. Martin's and returns at 3 p.m.
Where to eat: Tourists can dine at various hotels and restaurants. In the evenings, different fish, crabs, and octopuses are displayed in front of the hotel restaurant, on either side of the road, and along the beach. The aroma of fried fish wafts through the air. Additionally, a nightly fish barbecue festival is held in the courtyards of nearly all the hotels.
What to do:
St. Martin has many high-quality hotels and cottages. Numerous residences also provide lodging for tourists. You may spend the night in a tent if you so desire. You may choose anyone you wish, but rent must pay in advance.
My recommendation:
St. Martin's is not complete without at least one night. Visitors are encouraged to stay at least two nights to appreciate the natural coral island fully. It is unique in Bangladesh. After midnight, when all generator-powered lights are turned off (the island lacks central electricity), you look up at the sky. Millions of twinkling stars, a smiling full moon, the whispering of the breeze, and the lapping of the sea create a heavenly atmosphere. At night, this divine appearance is incredible. Attend and take pleasure!