Prime Minister Sheikh Hasina gave a party for the men and women on the national football team. The footballers also got 5 lakh taka in addition to the reception.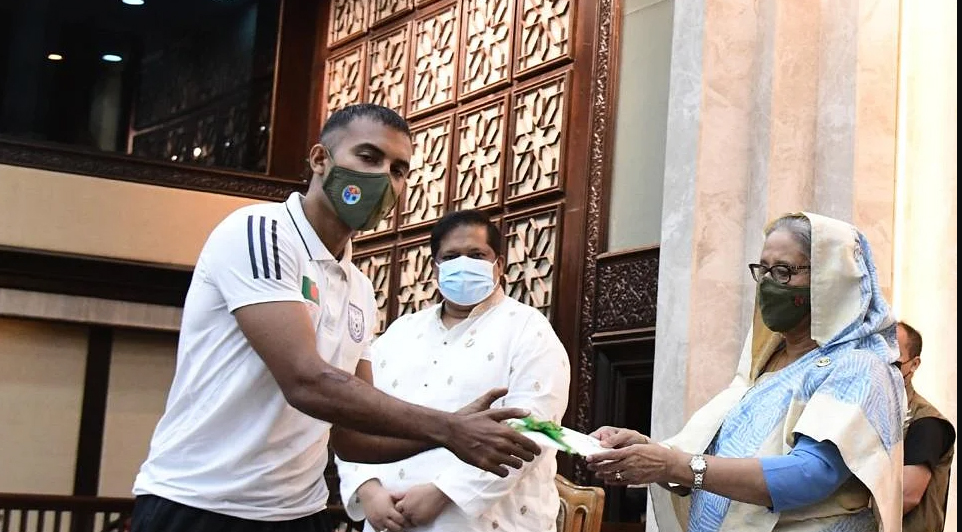 On June 20, 66 athletes and 22 coaches were invited to a party by Prime Minister Sheikh Hasina. In addition, 25 men play football, 23 women play football and 18 cricketers with physical disabilities.
The Prime Minister gave a reception to the players and officials of the national men's team for winning the Mujib Year Series against Nepal in 2020, the women's football team for beating India and becoming the SAF U-19 champions, and the Bangabandhu Physically Challenged Cricket Tournament champion team in Cox's Bazar in November of last year.
The Prime Minister gave 5 lakh taka to 25 men's football teams, 23 women's football teams, and 18 members of a cricket team for people with physical disabilities. But eight men's football coaches, ten women's football coaches, and four people in charge of the physically disabled cricket team.
Everyone in the Prime Minister's Office was given a money envelope. But only Jamal Bhuiyan, the captain of the men's football team, Maria Manda, the captain of the women's football team, and Faisal Khan, the captain of the cricket team for people with disabilities, gave the money checks to the Prime Minister in person.
Maria Manda, captain of the women's national team, receives a check from Prime Minister Sheikh Hasina
Maria Manda Chabi, captain of the women's national team, receiving a check from Prime Minister Sheikh Hasina
Women footballers have been awarded in this way by the Prime Minister before. So all the footballers are happy to be welcomed again. However, four women footballers, Unnati Khatun, Shaheda Akhter, Kuhati Kisku and Afuda Khandaker, who are SSC candidates, could not go to the PM's office.
Women footballers have received awards from the Prime Minister many times before. Everyone is overwhelmed by such a reception again. For them, national team coach Golam Rabbani said, "The prime minister has said, 'You have to play better in the future.
When you go down to play, you go down with the mentality of being a champion. I am by your side all the time. I will give you whatever you want." It's a big inspiration for girls. The girls have received such awards three or four times before.
In the future, Mariara will pay more for it on the playing field. ' A documentary was shown at the beginning of the program. State Minister for Youth and Sports Zahid Ahsan, President of Bangladesh Football Federation Kazi Salauddin, Maria, captain of girls under-19 team and Faisal Khan, captain of Bangladesh Physically Handicapped Cricket Team, spoke on occasion. In addition, BFF senior vice president Abdus Salam Murshedy, women's committee chairperson Mahfuza Akter Kiran and many others were present.