Dilruba Beagum Fancy
Bengalis are known as food lovers. In the world, we are known as "fish-rice" Bengali. Although fish and rice are the staple food of Bangladesh, there are different types of traditional food from different regions. Each district has some popular food, which carries the tradition of that district.
Similarly, a traditional dish of Barisal is called `Narkel Pete Chingri' (coconut belly shrimp). The history of cooking with shrimp and coconut is very old. Food-loving Bengalis highly value shrimp. The shrimp is seasoned with spices, put inside the coconut, and cooked in a burning oven. If you have coconut shrimp with rice, you don't need anything else!
Let's see how it is cooked!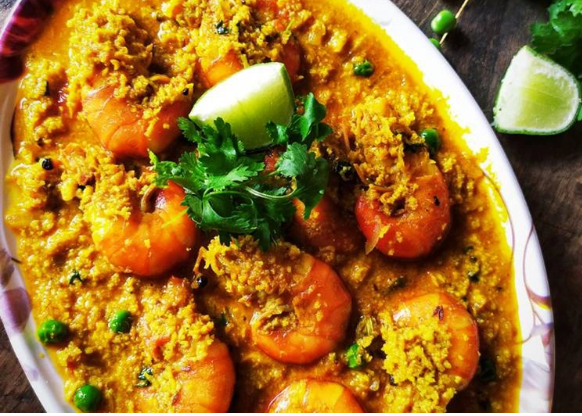 Material:
Shrimp half a kg
1 cup chopped onion
One and a half teaspoons of chilli powder (or to your taste)
Half a teaspoon of powdered turmeric (or to your taste)
Cumin paste and a half teaspoon
1 teaspoon garlic paste (or to your taste)
8/10 whole green chillies
1 coconut
Preparation:
First, cut the fish and wash it well in saltwater. Then, please pick up the coconut, squeeze the rostuku (coconut milk) in the half coconut batter, discard the husks, and leave the rest of the grated coconut. Now keep frying the onion with oil in the pan. When it is medium red, fry the fish with a bit of water, add chilli powder, turmeric, cumin paste and garlic paste, and add salt well. Drain well and remove the oil. Now fry the fish with coconut milk and coconut and green chillies. Check the salt. Takedown and serve with hot rice or polao.