Roman Sana was dissatisfied just as his desire to burn was high. However, after overcoming the disappointment of bad performance over the past few months, he played exceptionally well at this year's Asia Cup archery tournament.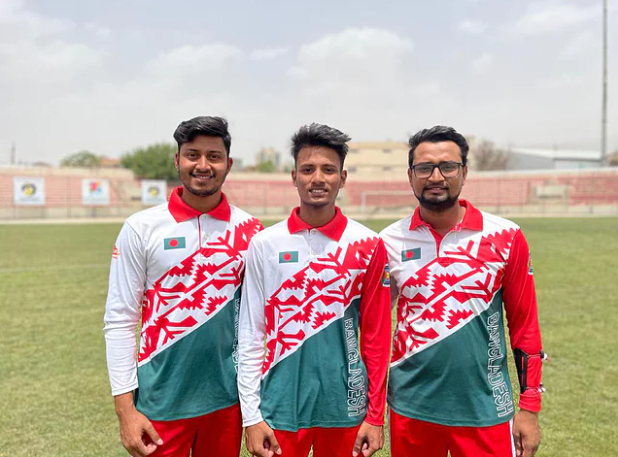 Recurve hoped to win gold in the men's singles championship. However, Mrinal Chauhan of India defeated Roman with a score of 6-2 set points on May 10 in Sulaimaniya, Iraq, during the final stage of the second Asia Cup Archery competition.

Mrinal scored 28 points in the opening set, while Roman scored 26. However, in the following two sets, the two teams split points. Two archers scored 26 and 27 points in the second and third sets, respectively. Mrinal scored 29 points in the final set, while Roman scored only 25.

Earlier, the Bangladesh team of Roman Sana, Hakim Ahmed, and Abdur Rahman was unable to win gold in the men's recurve team event. In the final, India defeated Bangladesh 5-1.

In the first set of this competition, Bangladesh and India each scored 55 points. However, India won the following two sets to win the match. Bangladesh scored 55 points in the second match, while India scored 57. India scored 56 points in the third match, while Bangladesh scored 54.

In the men's recurve event at the Asia Cup Archery Stage One held in Phuket, Thailand, from March 14-19, Bangladesh did not win a medal. Malaysia defeated Bangladesh in the bronze medal match. That team's players, Ramkrishna Saha and Mohammad Sagar Islam could not travel to Iraq. Instead of them, Abdur Rahman and Hakim Ahmed performed in Iraq.

Siddiqui challenged Bangladesh's Beauty Roy for the bronze medal in the women's recurve solo event on a different day. Beauty defeated 7-1 set points in this competition to earn the bronze medal. Beauty scored 27 points in the opening set, following the second set victory. Get 26 points once more, but score 21 instead. In the third set, they each scored 27 points. Diya scored 30 points in the fourth set, while Beauty scored 27. In Thailand's first stage of the Asia Cup archery competition, Bangladesh earned three gold and one silver medal. Bangladesh did not win any gold medals this time around. Four silver and four bronze medals were awarded.