Part ELEVEN, the reflection of memory continues.
Disadvantage Bengali Struggle, the Nightmare, fighting with our family. Furthermore, Race and we attacked. However, almost every day, hearing the word "Paki go back to your own country," the Anti-Racist Movement was the turning point that changed lives in a land of opportunity and hopes both politically and economically; those who came to the UK in the mid-'80s do not have an understanding or clue about the past.
Once again, a reflection of memory PART ELEVEN, my first visit to Bangladesh since I went to the UK and seven months spent in Bangladesh where all family issues and my time with people encouraged and motivated me to the idea of community politics.
I did end up at the election campaign office of Babrul Hossain Babul at the Zinda Bazar, where I met one of the students and leaders of the Chattro League activities, Abdul Kalique Sanu, who was very interested in finding out about the election from the UK and trying to learn from it. Also, a young person, age 15, was so keen to learn and wanted to meet one of the freedom fighters and heroes of the student movement after Bangladesh became independent on December 16, 1971. So everything became so exciting for me, and I did not miss the UK or my school either. Everyone in my village was confused why I had to go to Sylhet Town, but my reply to everyone was that I did have stomach problems and that in my bari, there were no adequate toilet facilities; my bari toilets remained made of bamboo-like in the old days, and that was the reason, to everyone, not sharing what I was after or doing either.
So, a few days later came to meet Babrul Hossain Babul, and I was so excited and agreed to go with him to some of the Londoni Bashas; they are from Biswanth and Jagonnathpur where candidate Babul saw an advantage for him taking me to Londoni houses to his election campaign.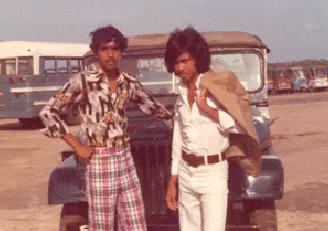 My life in Bangladesh slowly became more exciting despite the incident within the family and my trip to Bangladesh in 1977.
Where getting to cope with all odds and accept my brother's attitude and behaviour plus his activities as far as I was concerned. He is the oldest person in my father's and my maternal family; he got all the love and attention and, throughout the process, became the family's black sheep forever.;
Through election campaign activities, and kept visiting the election campaign office in Zida bazaar, where he slowly became close to Abdul kalique Sanu; (Student leader); later, due to such link and connection came to the UK as a visitor by sponsor by Tower Hamlets council leader Paul Bessly after our educational mission 14 peoples delegation led by council leader during 1980 and Abdul Kalique Sanu remains in the UK got establish person and however, our educational mission to Bangladesh in 1980 which going to talk about it later stage in full detail.
My trip to Bangladesh in 1977 going to be continued following issues.,