DR. MD. SHARFUDDIN AHMED
The cornea and lens of the eye are very necessary for human vision. If the transparent lens of the eye is opaque due to age or any other reason, vision is reduced, and normal functioning is disrupted. Cataracts are the opaque lenses of the eyes. With age, if there is an injury, any other inflammation in the eye, diabetes or high blood pressure, if you take some drops in the eye for a long time, cataracts appear in the eyes. Cataracts are of three types- 1) nuclear, 2) cortical, and 3) subcapsular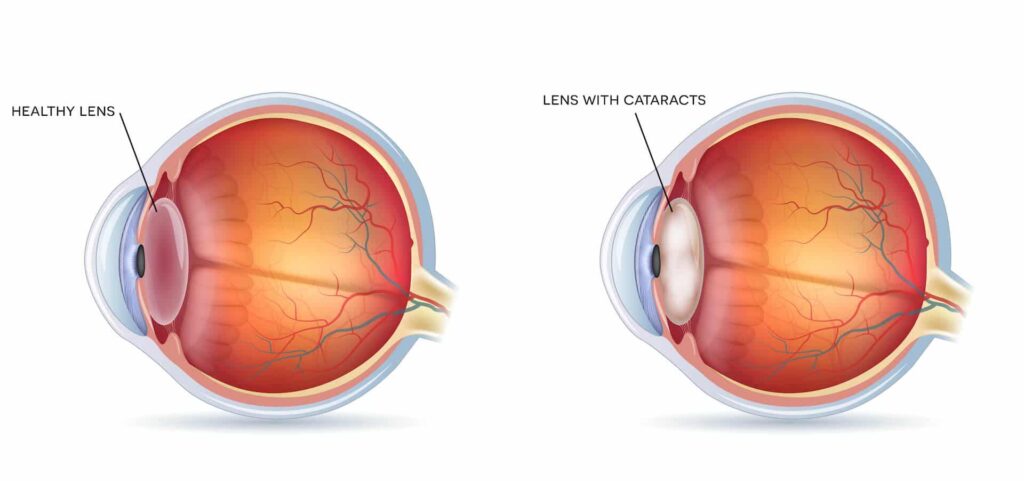 What is the treatment of cataracts?
Cataract treatment is not possible with cataract surgery, drugs or spectacles alone.
What is the operation for cataracts?
Cataract surgery involves removing the opaque lens inside the eye and replacing it with an artificial lens. Cataract surgery is performed in a variety of ways, such as phaco surgery (stitched cataract operation) and conventional cataract operation (stitched). If cataracts are not treated, vision will gradually decrease. However, too late can lead to serious complications such as glaucoma or eye pressure, eye inflammation and severe pain, as well as complete blindness.
What is phaco surgery?
The cataract is melted out, and an artificial lens is placed in the eye.
Cataract surgery has undergone tremendous changes since the introduction of phaco surgery. This will only become clearer if we do comparative judgment.
Phaco operation-
1) Here, the lens is melted out.
2) This method does not cause bleeding.
3) 2.5-3 m. Mr. The hole is made.
4) Sewless
5) You can go home immediately after the operation.
6) It is forbidden to give tears only for 7 days in this operation.
6) Heals quickly.
Conventional operation / SICS
1) In this operation, the whole lens is brought out at once
2) There is a possibility of bleeding.
3) In this operation 6-7 m. Mr. The hole is made.
4) This method sometimes requires sewing.
5) You must stay in the hospital for at least 1 day after the operation.
B. Note: Spectacles are required to look closely after cataract surgery in any method. However, if you use the multi-focal lens in phaco surgery, you will not need glasses anywhere near far.
Advantages of phaco surgery:
(1) seamless; (2) heals quickly; (3) to be able to do normal activities within 3-4 days, including – driving, studying, watching TV, and running an office; (4) admission sometime before the operation; (5) leaving home after the operation; 6) Surface / Local anaesthesia is performed; (6) All patients who can be assisted are operated on only by drop without injection; (6) If no injection is given and the doctor deems it appropriate, you can send him home without eye bandage after the operation; (6) There is no possibility of complications and (9) you can eat normal food immediately after the operation.
What to do if the operation?
If we recommend eye surgery, 3-4 tests should be done before the operation, as suggested, such as (a) blood sugar for diabetes, (B) ECG, (C) biometric for the size of the lens to be placed in the eye, (D) eye pressure test and (e) coronal corona test.
Foldable lens:
1) This lens is the latest version of the lens. 2) This lens can be softened and folded. 3) In the case of this lens, only 2.5-3 mm. It is to cut. 4) In this case, there is no possibility of opacity behind the lens after the operation. 5) In this case, the eyes heal very quickly.
Ordinary lens: SICS method
1) Ordinary conventional lens (PMMA), 2) This lens is hard, cannot be folded, 3) In case of this lens 5.5 mm. You have to cut, 4) In this case, there is a possibility that the lens will become opaque after the operation. 5) In this case, you have to inject through injection. 6) In this case, there is a small amount of bleeding. 6) In this case, anaesthesia is to be given by injection.
Things to do after the operation:
(1) After the operation, one must go home with the clearance from the doctor. (2) Regular use of medicines prescribed in the clearance. (3) Do not apply water directly to the eyes for 7 days. (4) A total of three visits to the doctor should be made on the day after the operation, 6 days later and one month later. If any of these problems occur at any time, a doctor's advice should be taken.
If cataracts interfere with one's normal daily activities, there is no need to delay cataracts. In many cases, even if the cataract is not minus 10-12 or more, the new (IOL) lens is used in transparent lenses through phaco surgery.