SHAHRIN ISLAM SHARNO
Eid shopping in the city is becoming more popular by the day. A rush of customers can be seen in almost all of the city's marketplaces and shopping arcades, which continues after Iftari until late at night. People and their families go shopping shortly after breaking their fast, and it is common to see them purchasing shoes, suits, ready-made clothing, and other Eid-related items. Most retail markets in New Market, Islampur, and other shopping malls have been aesthetically adorned and lighted with bright lights and buntings, especially at night, to attract shoppers.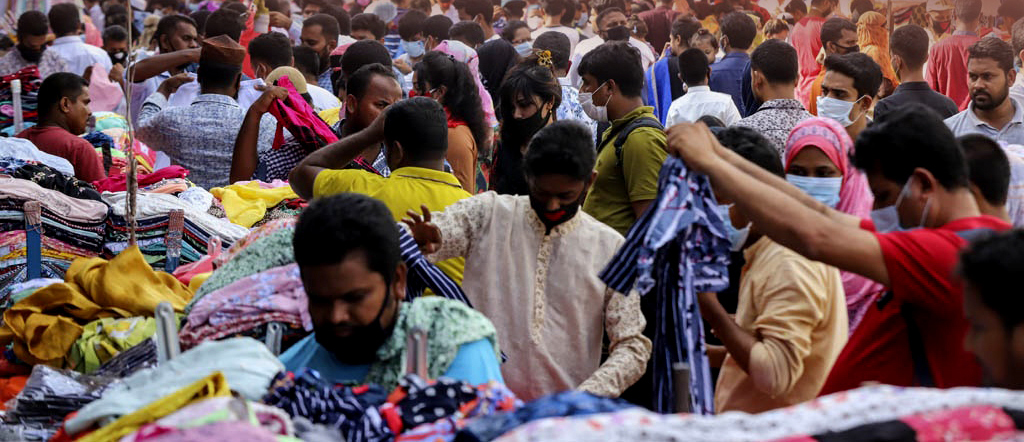 Shopkeepers have displayed a wide range of ready-made clothing, textiles, suits, shoes, cosmetics, eye-catching jewellery, and quality three-piece suits for children previously unavailable in the city's wealthy markets.
Sarees, short-kameez, lehengas, knitted clothing, and jewellery are popular choices. These outfits frequently woo customers as Eid special deals.
"The fervour of Eid buying is progressively growing in our city, as the bulk of clients is coming for shopping during the last ten days of Ramzan, while some will most likely visit Chand Raat," says Mohammed Rashid, a salesperson at a prominent new market clothing centre.
On the other hand, customers are dissatisfied with the sky-high pricing of things like sarees, Bezos woollens, and wallets, which cost around 2000tk, 1800tk, 900tk, and 1500tk, respectively, and are out of reach for the middle and salaried classes.
A kameez starts from 700tk this year. Similarly, ready-made children's and girls' clothing prices are expensive enough to make the middle-income group talk.
Shopkeepers put up kiosks outside their businesses in various markets likeKrishiand Dakhiunkhan to entice potential consumers. The girls and ladies are busy shopping for traditional bangles and henna.
"Bangle and henna purchasing is usually on my priority list, which multiplies my family's excitement on Eid-ulFitr's Day," MalaikaTarranum says as she browses the Chowk Bazaar market for bangles.
"Choosing high-quality bangles and henna is a challenging undertaking. "After a three-hour shopping spree, I eventually bought six sets of bangles and henna for myself and my girls," she continued.
"On Eid Day, I get a lot of pleasure and excitement from wearing new crystal bangles and adorning my hands with henna," she said. This is the cheapest option to bring your friends and relatives because a whole set of bangles and henna can be purchased for extremely low costs.
On Sunday, large crowds were spotted on a spot visit in the New Market, Gausia Market, Chandrima Super Market, and Nurjahan Market. Shop owners and employees in such marketplaces have had a busy response to their clients' requirements.
Traders in the New Market area stated they are confident about making excellent sales this season. They have already lost a lot of money in the previous two years owing to the Covid-19 outbreak and the recent confrontations.
The shop owners noted that they are recouping their losses as clients continue to rise.
"The demand for locally manufactured Jamdani has soared, and sales have gone up ahead of Eid-ul-Fitr," MdMonsur, proprietor of Lucky Corner at Gausia Market's Noor Mansion Shopping Center, said. So right now, our Jamdani sarees are doing well."
"I'm here to buy some Jamdani saree for my mother and me for the forthcoming Eid," said SarikaTabassum, a market visitor. I'm not concerned because the situation here appears to be typical."
Many consumers, like Sarika, felt the new market area is one of the best.
They frequent these locations because they may discover a wide range of things at reasonable costs.
A number of vendors noted that kurta, pyjama, Punjabi, saree, salwar kameez, fatua, lungi, formal shirt, trousers, polo shirt, and T-shirts are in strong demand at the New Market right now.
According to Ashraful Islam, proprietor of Ananya Fashion House in Sylhet's City Heart Shopping Mall, consumers are going to the mall, but they are now more interested in exploring than buying. This year, sales may go up in the last days leading up to Eid.
Runner Plaza is a posh retail mall in Bogura City. According to Alauddin, a clothes store manager in the market, the epidemic has affected people's earnings and the fact that they have lost many customers. As a result, many customers are now looking for discounted or low-cost clothing.
Nasreen Akhter, a Lakshmipur schoolteacher, said the cost of everything, including clothes and shoes, is quite expensive this time of year.
Even bartering at stores appears to be taxing.
In contrast to the lacklustre sales, popular brand retailers see an Eid rush that lasts till late at night.
Popular fashion houses in Rajshahi, such as Aarong, Le Reve, and Easy, are packed with customers. In the hours following iftar, a huge line of consumers can be seen in front of the Aarong store. According to Aarong, the company's sales are good.
Women in Jashore are yearning for "Puspa" and "KanchaBadam" saris, popularized by Indian television shows and social media superstars. The saris are priced from Tk1,500 to Tk4,000 at the upper end.
Hand painted, batik, sicogadwal, organza, and Banarasi silk saris are very popular. Three-piece suits are preferred by young ladies, whereas Punjabi suits are popular among males of all ages.
Nabila Haque, a housewife, said she could not visit her home village over the previous two Eids because of pandemic-related restrictions. She will, however, return to her village home to enjoy the event with her family and relatives this time.
Customers are steadily increasing, but as Eid approaches, we hope to see much more growth," a merchant added.