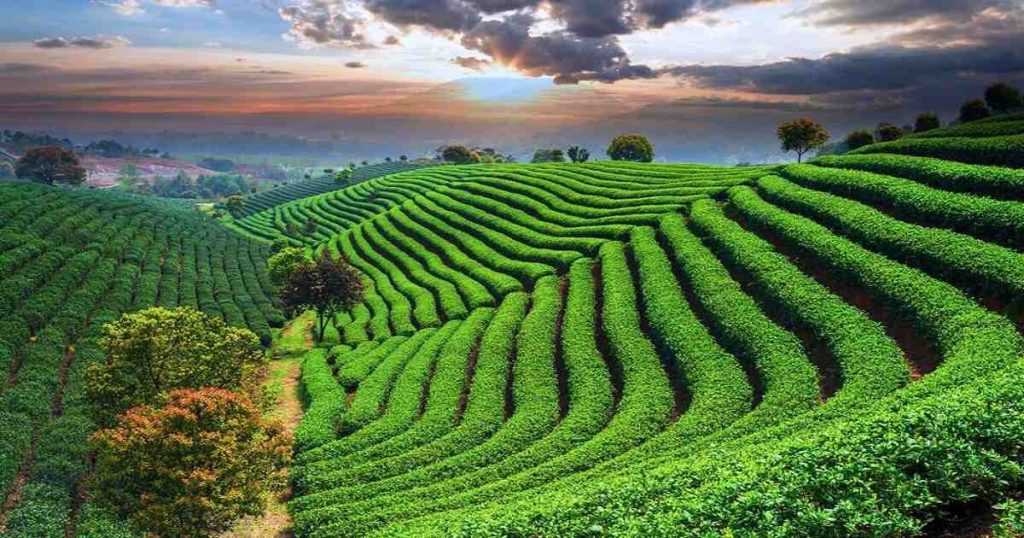 Tea gardens in Sylhet are some of the most beautiful and serene places in Bangladesh. Here are some of our favourites!
Bangladesh is a country that is rich in natural beauty. There is much to explore, from its soaring mountains to its pristine beaches. Within Bangladesh, the northeast region is especially stunning and home to some of the most breathtaking tea gardens in the world. If you're looking for an adventure off the beaten path, visit Sylhet and take in the natural wonders of these tea gardens firsthand. Here is what you need to know about the best tea gardens in the Sylhet area.
Sylhet Is Home To Most Stunning Gardens in Bangladesh,
Sylhet, the principal mountainous region of Bangladesh, is one of the world's leading tea growers. The sight of the verdant green tea bushes against the backdrop of the undulating hills will take your breath away. Tea plants thrive in regions with moderate precipitation and consistent temperatures. In places with excessive or inadequate rainfall, crops develop more slowly and provide lesser yields. Therefore, the optimal location for tea planting is in mountainous locations with more consistent rainfall throughout the year. With its excellent temperature and fertile soil, Sylhet is ideally suited for cultivating tea leaves of the highest grade. The leaves are then plucked and processed to generate the beloved final product.
A Popular Tourist Attraction, And For a Good Reason – They're Breathtaking!
The rolling hills, lush green surroundings, the gentle sound of running water, and the delicate aroma of tea leaves create a stunning backdrop unlike anywhere else in the world. Visitors can take a stroll through the gardens, enjoying the peaceful atmosphere and taking in a natural beauty. Not only this, but they are also a great place to learn about the history and culture of Sylhet.
An Important Part of Bangladesh's Economy And Employs Many of Its People
Bangladesh is one of the world's top tea producers and exporters. The country's first commercial-scale tea garden was established in 1854, and today there are 164 tea gardens in seven districts, of which 135 are located in Sylhet. Tea is cultivated on 115,757 hectares of land, and 359,085 people live in tea garden areas, including 89,812 registered workers and 19,592 casual workers. The tea industry is an important part of Bangladesh's economy and continues to provide employment for many of its citizens. In addition, tea garden workers are paid relatively well, which means they have more money to spend on other things. This cash injection into the economy helps grow businesses and spur economic activity.
Also, tea gardens generate a lot of revenue for the country, and in 2020, Bangladesh exported $4.33M in Tea, making it the 56th largest exporter of tea in the world. The leading destination of Tea exports from Bangladesh is Pakistan ($2.27M), United Arab Emirates ($1.15M), the United States ($625k), Kuwait ($67k), and Canada ($63.5). A significant portion of those exports came from Sylhet's Tea gardens. That's why Sylhet tea gardens play a big role in Bangladesh's economy and employ the people of Bangladesh.
Top Five Best Tea Gardens in Sylhet Area – Tea Tourists Shouldn't Miss!
1: Lakkatura Tea Garden – A Scenic Spot in Sylhet, Bangladesh:
Sylhet, Bangladesh, is a beautiful country known for its scenic tea gardens. One of the most popular tea gardens in Sylhet is Lakkatura. It is located near Osmani Airport in Chaukidhenki Upazila of Sylhet district. Established in 1875, the garden covers an area of 1293 hectares and produces around 500,000 kg of tea annually. The garden is well-maintained and has a beautiful landscape.
The tea produced here is high quality and exported to various countries. When visiting Lakkatura Tea Garden, visitors can take in the stunning scenery and learn about the history and production of tea in Bangladesh. The garden offers a peaceful and relaxing experience for all who visit. There are also several factories of tea estates where visitors can see how tea is processed and packaged. Lakkatura Tea Garden is a must-visit destination for anyone who loves tea.
2: Malnichherra Tea Estate – A Tea Lover's Paradise:
Malnichherra Tea Estate is the oldest and largest tea garden in Bangladesh and the whole subcontinent. Lord Hudson established it in 1849 on 1500 acres of land. The tea estate is close to Sylhet International Airport and features the ancient Harong Hurong cave.
Visitors to Malnichherra Tea Garden can take part in a range of activities, including guided tours of the estate's facilities, tastings of different types of teas produced at the garden, hiking through the jungle to Harong Hurong cave, picnicking among the sprawling greenery, or fishing in one of the estate's many ponds. There are also several shops onsite where visitors can purchase tea, souvenirs, and local handicrafts.
3: Jaflong Tea Garden:
Jaflong Tea Garden is a tea lover's dream! Nestled in the foothills of the Indian Himalayas, the garden is known for its stunning natural scenery and incredible tea. The garden is spread over acres of terraced land, with panoramic views of the river and mountains. The tea here is grown in rich, volcanic soil that lends it a unique flavor and aroma.
The garden is a popular tourist destination; visitors can enjoy hiking, picnicking, and even white water rafting. The tea shop at the garden offers some of the best tea in Sylhet, and visitors can sample a wide variety of blends, including black tea, green tea, and oolong tea. Jaflong Tea Garden is a must-see for any lover of nature or tea!
4: Lakshatura Tea Garden:
Nestled in the hills of Sylhet, Bangladesh, Lakshatura Tea Garden is a tea lover's paradise. The rolling hills and lush greenery are simply unmatched. And when the sun sets, the whole garden takes on a magical quality. It's no wonder many people come from all over Bangladesh to visit this special place.
But Lakshatura Tea Garden isn't just beautiful but incredibly peaceful. As you stroll through the gardens, you'll likely feel more relaxed than you have in years. It's the perfect place to unwind and forget about your troubles for a little while. Trust us; once you've visited Lakshatura Tea Garden, you'll be hooked. Visitors can enjoy a cup of tea at the on-site tea shop, hike through the hills, or take in the stunning scenery. No matter what you do, you will surely have an unforgettable experience at Lakshatura Tea Garden.
5: Tarapur Tea Garden:
The Tarapur Tea Garden is spread over rolling hills, and its lush green foliage is a sight to behold. The tea garden is home to various birds, and visitors can often spot deer and other wildlife roaming around. The best time to visit the Tarapur Tea Garden is during October to March when the weather is cool and pleasant.
Visitors can take a walk around the garden, and a few hiking trails lead up to the nearby hills. TheTarapur Tea Garden is the perfect place to relax and unwind, and it's sure to leave visitors feeling refreshed and invigorated. If you're looking for a hidden gem in Bangladesh, look no further than the Tarapur Tea Garden.
The Future of Tea Gardens in Sylhet, Bangladesh:
Tea gardens are important to Bangladesh's history and culture. For centuries, they have been a source of employment for the people of Sylhet. Dating back to the British colonial era, at that time, Sylhet was part of India and was known for its abundant natural resources and ideal climate for tea cultivation. As a result, the British established many large tea plantations in the area, which employed thousands of workers. After the partition of India in 1947, Sylhet became part of East Pakistan (which later became Bangladesh). However, the region continued to be an important centre for tea production.
Today, tea gardens are an important part of Bangladesh's economy and play a vital role in the country's foreign trade. However, many challenges face tea gardens in Bangladesh. One of the biggest challenges facing tea gardens in the Sylhet area is the need for more investment. Many tea garden owners are reluctant to invest in new technology and equipment, which means that productivity and costs are low. As a result, many tea gardens are struggling to stay profitable. Also, more education and proper training among workers are needed. This leads to low productivity and quality, affecting the gardens' profitability. Also, tea garden workers are often paid very low wages, which makes it difficult for them to make a decent living. All these factors make it very difficult for tea gardens in the Sylhet area to compete with other regions in Bangladesh and beyond.
In addition, tea gardens are facing increasing competition from other countries, such as India and China. These countries have lower production costs and can produce higher-quality tea. As a result, they can sell their tea at lower prices than Bangladeshi tea gardens. This is making it difficult for Bangladeshi tea gardens to compete. Furthermore, climate change, soil erosion, water shortage, and other environmental problems harm tea gardens in Sylhet.
The future of tea gardens in Sylhet will depend on how these challenges are addressed. If investments are made in new technology and equipment, then Bangladeshi tea gardens can increase their productivity and become more competitive. However, if these investments are not made, then the future of the industry will look bleak.
Bangladesh Government Efforts to Boost Tea Production and Exports
In recent years, the Bangladesh government has made a concerted effort to increase tea production to meet local demand and export tea abroad. And Sylhet tea gardens have played a big role in those efforts. The government has provided financial assistance to Tea growers and has taken steps to improve the quality of tea produced in Bangladesh. According to The Daily Star, Commerce Minister Tipu Munshi recently said that the government plans to increase tea production by 46% to 14 crores kg by 2025.
Despite this increase, it is still challenging to export tea abroad after meeting the need of the people of the country. Munshi said that besides the government, the owners of tea gardens should also come forward, and the government would provide all necessary assistance. According to an estimate, by 2025, local demand for tea in Bangladesh will be around 13 crores (12,90,000) kg. Therefore if it is possible to produce 14 crore kg of a tee, it will be possible o export another one crore kg of tee after meeting local demand.
Women's Tea Workers in Sylhet, Bangladesh – Their Lives and Struggles
Even though women have worked in the tea industry in Bangladesh for over a century, their contributions have largely been overlooked. In recent years, however, their essential role in the sector has begun to be recognized. Most tea workers in Bangladesh are women, who play a vital role in ensuring that the country's tea industry runs smoothly. However, these women workers face many challenges. They are paid very low wages, which makes it difficult for them to make a decent living. Despite this fact, Bangladesh's women continue to play a vital role in the country's tea industry.
Final Verdict:
Bangladesh is home to some of the most breathtaking tea gardens in the world. The country's lush, green landscapes provide the perfect environment for growing tea leaves. Tea gardens in the Sylhet area are particularly renowned for their beauty. Whether you're looking to relax and enjoy the scenery or learn more about the tea industry, a visit to one of Sylhet's Tea gardens is a memorable experience.
However, the tea industry in Bangladesh faces many challenges. These include competition from other countries, low productivity, and environmental problems. Despite these difficulties, the tea gardens of Bangladesh continue to produce high-quality teas that are enjoyed by people all over the world. And if these challenges can be addressed, the future of Bangladesh's tea industry will look bright.