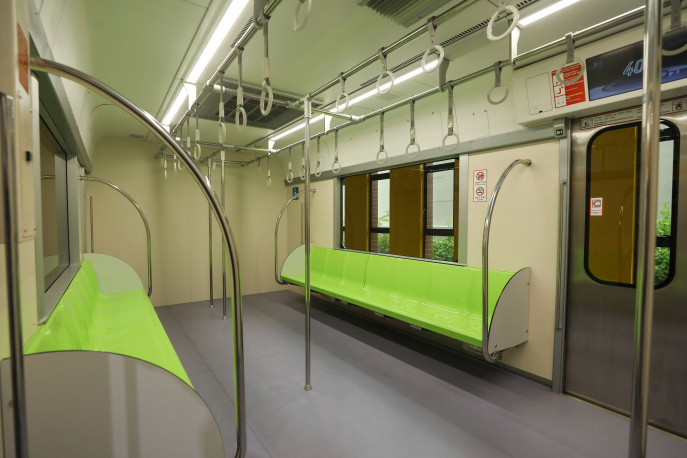 Bangladesh has made a historic move in the domain of modern transportation – Sheikh Hasina, the Honorable Prime Minister of Bangladesh, recently inaugurated the country's first-ever elevated metro rail. This major feat symbolizes progress and development for one of the world's most densely populated countries. The new Metro offers an exciting opportunity for citizens to travel quickly, easily, and more safely with interconnectivity from different parts of this most significant city in South Asia.
With high-end comfort features such as air conditioning, congestion-free seating capacity, and wireless Internet access appointed with advanced security systems at station areas – it is set to revolutionize mobility across Dhaka like never before. So let's explore the journey and experience the magic of this new addition in the world's fastest-growing urban centres.
Overview of the Mass Rapid Transit (MRT) Line-6 of the Metro Rail Project from Diabari to Agargaon
On December 28, 2022, Bangladesh's Prime Minister Sheikh Hasina inaugurated the country's first-ever elevated metro rail in Dhaka's capital. The 11.73 km part of the Mass Rapid Transit (MRT) Line-6 of the metro rail project from Diabari to Agargaon was opened with a plaque unveiling at Diabari in the city on Wednesday.
A total of 200 people, including ministers, government officials, diplomats, and freedom fighters, among others, joined the premier on the maiden metro rail journey. This marked an important milestone for Bangladesh as it aimed to become one of only a handful of countries in South Asia to have a fully-fledged metro network.
The train carrying PM Hasina and her entourage left from Diabari station on Wednesday at noon and arrived at Agargaon station 17 minutes later. It is reported that she spent much time admiring the newly built stations and railways while on board. Along with her passengers, PM Hasina experienced first-hand what it's like to travel inside Bangladesh's first-ever elevated Metrorail system, which promises fast and comfortable rides for its commuters.
Upon arrival at Agargaon station, PM Hasina made a brief speech congratulating all those who were involved in building this massive project, after which she bought a ticket from an MRT booth and unveiled a commemorative stamp and banknote marking the occasion. She also took Bangladesh's first official ride inside an MRT train with some other passengers who eagerly welcomed her aboard.
This momentous event marks another momentous achievement for Bangladesh as it continues to develop its transportation infrastructure in order to provide safe and reliable commutes for its citizens. The opening of MRT Line 6 not only brings about improved transportation services for those living near or around Dhaka but also paves the way for future projects. With this new venture, PM Hasina has underlined her government's commitment to providing better mobility options that are economically viable and ecologically responsible too.
Significance of the Launch of Bangladesh's First Ever Elevated Metro Rail in Dhaka
Impact on Economic Development and Reduction in Traffic Congestion in City
The launch of Dhaka's first-ever elevated metro rail positively impacted Bangladesh's economic development. It helps reduce traffic congestion in the city and allows for faster movement of people, goods, and services.
Improved Public Transportation System and Increased Connectivity across Dhaka
The new metro line has increased connectivity across Dhaka by providing an efficient public transportation system that links different parts of the city together. This also gives people living in different areas quick access to other locations within Dhaka, allowing them to quickly commute between work or school and home or leisure activities. In addition, it has been estimated that travel times on this new line will be reduced by up to 50%.
Expected Benefits For Local Community And Businesses Along Route
Introducing this new metro line is expected to bring many benefits to local communities along its route. It has been estimated that air pollution levels near stations may decrease due to reduced traffic congestion caused by increased use of public transportation systems such as these elevated metro rails.
Additionally, local businesses along its route will likely see increased profits due to greater visibility and accessibility for potential customers. Lastly, communities located near stations may also experience increased safety levels as more people use the metro rail.
Overall Improvements To Quality Of Life For Citizens And Tourists Alike:
Launching this new metro rail is expected to significantly improve the quality of life for both citizens of Bangladesh and tourists visiting from abroad/overseas countries. Hopefully, this new mass transit system will make travelling around Dhaka safer, faster, and more convenient for everyone.
Potential Boost To Bangladesh's Tourism Industry:
In addition, this launch also promises a potential boost to Bangladesh's tourism industry! With quicker access to different attractions around town due to its efficient public transportation system, tourists can now visit places with much greater ease than before – making it easier for them to enjoy their trip without having to worry about being stuck in traffic jams throughout their journey.
Metro Offers Special Facilities For Elder And Disable Women:
Ticket Office Machine Service:
The Metro has invested heavily in providing special facilities and services to elderly and disabled women. One of these services is the Ticket Office Machine (TOM), which has been strategically placed at the lower levels of each station. The TOM booth is designed to provide accessibility features to help disabled people easily buy tickets.
With a self-service ticket vending machine (TVM) located within each station, passengers can gain greater independence when buying and reloading their travel tickets. Moreover, having two TOM booths in each station provides convenience for travelers who require assistance purchasing tickets or reloading passes.
Lifts and Escalators to Enhance Mobility:
In addition to the TOM booth, the Metro has implemented lifts and escalators to enhance mobility for special needs passengers. Each lift has grab handles, a control panel, Braille instructions, and a ramp so all passengers can use them safely. Furthermore, automated doors on the lifts increase safety measures for those who need them most.
Escalators are conveniently placed throughout the station so passengers can reach their desired platform more efficiently. Accessible platforms at both entrances/exits of each station are also provided to ensure that everyone can board without impediment. Finally, staff members take extra care to assist special-needs passengers entering or leaving the station by offering assistance if needed.
Six Coaches of Trains One Reserved For Women:
Metro also provides women with a safe and comfortable environment to travel in. One of the six coaches of the trains is reserved solely for women. However, they are allowed to travel to any other coach they prefer. In addition, all other coaches have designated seating areas that are explicitly reserved for elderly passengers as well as pregnant women.
Separate Washrooms For Women As Well As Diaper Changing Rooms
Each metro station has separate washrooms that female passengers exclusively use. As an added convenience, dedicated diaper changing rooms are available at every station to make travelling easier for parents with babies.
Highly Trained Metro Staff:
The metro staff has also been trained to properly assist elderly and disabled women during their journey, offering help when needed, such as carrying luggage or assisting them onto the train and off again at their destination. Metro is committed to ensuring the safety of its passengers throughout their journey, and these additional measures are designed with this goal in mind.
Wheelchairs Access For Easy Mobility:
For the convenience of wheelchair users, the distance between metro coaches and platforms is far closer than any other public transport system. Each train coach has been specially designed with space for wheelchairs and safety straps to keep them in place during travel.
Wheelchair ramps have been installed in front of every elevator, with a slight incline for easy access. The station concourse has a relatively wide access road, so wheelchair users can easily enter and move around freely in the paid zone.
For Those Who Are Visually or Hearing Impaired:
The managing director of Metro Lines, Siddique, announced further accommodations such as announcements on public address systems and digital displays that would be tailored to the needs of the visually and hearing impaired.
The new system allows those who are affected by hearing impairments to read what is displayed on digital screens. In contrast, those with visual impairments can understand their location, destination, and other related information through announcements made over public address systems.
In addition, yellow tactile walkways also are provided in each station area so that blind passengers can use walking sticks with ease if needed. These changes are designed to make travelling more accessible for everyone.
No Half Fare For Students While Freedom Fighters Will Travel Free:
Metro trains have announced no half-fare for students and permanent free travel for freedom fighters. In addition to this, MRT pass buyers will also receive a 10% discount. This is in line with the company's aim of providing everyone with a safe and affordable mode of transport. Furthermore, children aged 90 cm and below can also travel free.
This news has been welcomed by many commuters who frequently use the metro rail system, as they can now benefit from these discounts and free travel services. The announcement has elicited positive responses from commuters who feel grateful to the government for introducing this scheme.
Great Way To Show Local Engineers' Abilities:
Metro rail is a modern marvel made possible by the hard work of local and international engineering firms. Construction of the metro rail system has been largely led by local contractors, who were allowed to demonstrate their considerable skills in this mega-project for the very first time.
The materials used for construction have all been sourced from local companies – all rods, cement, and other components have been provided by Malaysian firms. This has allowed for the best quality materials to be used in the project and create employment opportunities through local businesses.
Local paint-makers also contributed significantly to this project, providing painting solutions to meet strict safety requirements. These paints are designed to last for years without fading or getting defaced, ensuring the entire system looks vibrant and inviting daily. Not only did these paint makers ensure that their products were up to scratch with these requirements, but they also managed to provide them at competitive prices, which helped keep costs down significantly.
Involving local firms in this project allowed them to showcase their engineering excellence and provided them with much-needed employment opportunities during these difficult times. Furthermore, it also helped boost confidence among investors, who now believe that locals can handle large-scale projects with absolute precision and quality assurance.
Expansion Plans for MRT Line-6 and Other Lines in Future
The government plans to expand the current MRT Line-6 from North Paltan station southward until Matuail station, connecting different parts of north and south Dhaka via one single line. This would allow commuters from Matuail station quick access eastward into Mirpur, Jatrabari, etc., while those travelling from north Paltan station could quickly reach westward towards Airport Road Station (ARS).
Additionally, there are plans for future lines, such as MRT Line-7, which would run eastward from Uttara station until Motijheel Station. These expansion plans promise even greater convenience and accessibility for Bangladesh's citizens, who currently face long commutes due to traffic congestion.
If No Covid, This Dhaka Metro Have One of the Fastest Completed Metros in Asia:
If there had been no Covid pandemic, the Dhaka Metro could have been one of the fastest-completed metros in Asia, as it was scheduled to be unveiled on Victory Day last year. However, today marks a momentous occasion with its glorious start on this very day in the month of victory in Bangladesh's War of Liberation that occurred 51 years ago. This not only heralds a modern transportation network that many cities aspire to, but very few can realize.
Despite being a late entrant into the expensive and complicated venture of running metro rail services compared to India and Pakistan, Bangladesh is still becoming the third country in South Asia to do so; India got its first Metro commissioned back in 1984 in Kolkata while Pakistan opened its first metro service just two years ago in Lahore.
The Bottom Line:
The launch of Bangladesh's first-ever elevated metro rail is a major milestone for citizens residing within Bangladeshi borders and those visiting from abroad/overseas countries. Its efficient public transportation system promises improved quality of life, decreased air pollution levels near stations, increased revenue opportunities for local businesses along its route, and the potential boost to the country's tourism industry – making it clear why Prime Minister Sheikh Hasina's efforts should be applauded.
By providing easy access between various locations around town, we can expect both locals residents & visitors alike to enjoy many years' worth of fruitful experiences using this brand-new mode of transportation. So, what are you waiting for? Get ready to hop on board – it's time to explore Dhaka in a whole new way!