MOHD. TANZIL ISLAM
Michael Madhusudan Dutta was a Bengali poet and playwright who lived between 25th January 1824 and 29th June 1873. He was the twentieth century's first outstanding Bengali poet. In the field of Bengali theatre, he was a trailblazer. His most well-known work, Meghnad Badh Kavya, is a depressing epic. It is a nine-canto poem that is quite different from other Bengali poetry in both style and content.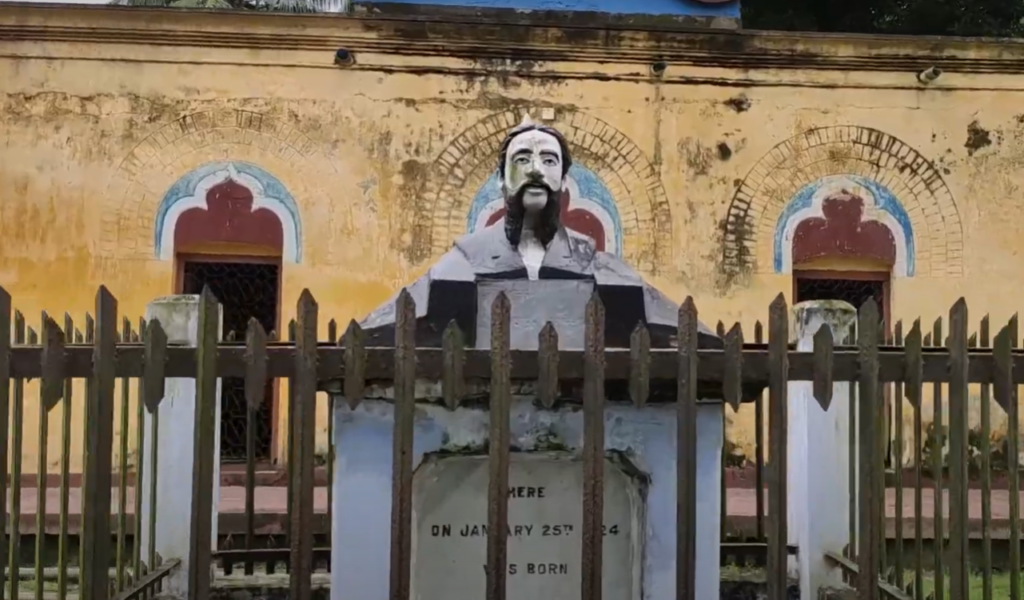 Michael Madhusudan Datta, also written by Dutt, was a Bengali poet and playwright born in Sgardari, Bangladesh, on 25th January 1824, and died in Calcutta, India, on 29th June 1873. Datta was a highly creative talent with a dynamic, unpredictable attitude.
Rajnarayan Dutt, his father, was a lawyer in Kolkata. Madhusudan began his education at home with his mother, Jahnabi Devi, and then moved on to Sagardari Primary School.
When he was seven years old, he was accepted into Kolkata's Khidirpur School and spent two years there. Finally, in 1833, he was admitted to Hindu College. He studied Bangla, Sanskrit, and Persian here, among other things.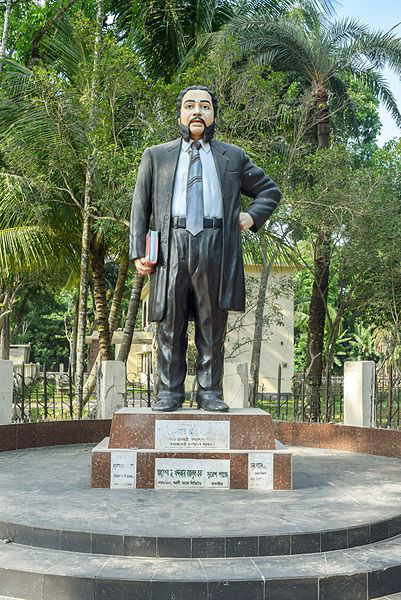 Around Madhusudan have been established the district council's post bungalow, the Sagardari tourist centre, and the Madhusudan museum. The poet's memory is interlaced with almond trees on the banks of the Kopotaksh, and visitors flock to the Biday Ghat.
When the poet and his family arrived in Sagardari in 182, his relatives reportedly refused to let him return home since he had converted. He camped for 14 days in his tent under the almond tree. The home was proclaimed ancient on 26th October 1985 by the then-government. This home now houses the Madhusudan Museum, including some of Madhusudan's family's furniture and other mementoes. There is a library now.
Michael Madhusudan Dutta, known as the "Father of Bangla Sonnet," was a great poet in Bengali literature. Despite the fact that he has been gone for almost 150 years, his community and home remain steadfastly in place. His father was a wealthy lawyer at the time, and he erected this ethereal palace in the village of Sagardari.
This house is now a museum dedicated to the poet, and it is available to the general public. Every day, a large number of visitors visit. I'm not sure how much the entrance charge was 15taka per person.
We chose to go to the poet Michael Madhusudan Dutta's residence after touring the Tetulia Shahi Mosque. We were riding through the picturesque splendour of the Satkhira and Jessore area on a motorcycle. The mosque was perhaps a half-hour bike ride away, if not more.
The poet's employed substances are mostly used to embellish most of the house's rooms. The bed, iron safe, wooden safe, cookware and gramophone are some of the notable items.
I couldn't believe that aristocratic families solely utilised items at the time and that they are little compared to what we have now. However, having those goods was nonetheless a source of pride at the time. People will say the same thing about our laptops, cellphones, and other electronic devices 100 years from now.
The Michael Madhusudan Dutt Memorial is located in Jessore's Sagordari neighbourhood. In Jessore, this is the only museum listed. In addition, there are sixteen attractions in this district that fall into other categories.
There is a huge pond with a ghat on one side of the Madhu Polli. There were just a few seats available for people to sit on. But it was the middle of the day, and it was hot enough for me to have to put my bottom there.
As a result, I decided to visit the famed Kopotakkho River. The poet's name is complemented by the river Kopotakkho and the local name Sagordari. It isn't easy to find someone who knows our poet but isn't familiar with the river or the village's name. However, these two names appeared frequently in Michael's literature.
This river had a lot of potential for me. Before approaching this river, I had a lot of fascinating fantasies. But when I saw this, I was taken aback. It was a deserted river, completely covered in water hyacinths. Through the lush green, it's difficult to discern a drop of water on it. I feel the water level should be between one and two feet.
It just seemed like an open green field to me. As a river, you won't believe it. After witnessing the destitute Kopotakkho, I was depressed. I'm sure poet Michael feels the same way.
The majority of the region surrounding Modhu Polli is densely packed with institutes that are directly or indirectly associated with the poet and his name. Some are handled by the poet's trust (likely the government itself), while locals run others.
I could have spent more time exploring, but those didn't appeal to me, so I moved on to my next stop, the Shekhpura Mosque. Here, the young poet received his education (primarily in the Farsi language) throughout his boyhood.
What is the best way to reach the destination?
Madhu Polli, a popular tourist site in the Jessore area, has already been noted. As a result, getting here from Jessore town should not be difficult. You may ride a hired motorcycle from Jessore town to get here.
Alternatively, you may use the public bus. In that scenario, you must travel to Keshabpur. It will cost around 40 Taka each person. Then, you may take a bus, a motorcycle, or a local tempo to go back to the poet's house.
In all, the trip will take between 60 and 90 minutes, depending on the vehicle you choose. Michael Madhusudan Dutta's residence is located at (22°49'8.99′′N, 89° 9'47.64′′E).
What is the best way to get to Jessore?
Dhaka is accessible by road, train, and air. Green Line Paribahan, Sohag Paribahan, Eagle Paribahan, AK travels, Satkhira Express and Shyamoli Paribahan run AC buses from Gabtoli, Kalyanpur, and Kalabagan in Dhaka to Jessore. The rent is between 1000 and 1500 Tk. Non-AC buses from Hanif, Shyamoli, Sohag, Eagle, and others also travel to Jessore. Rent between 550 and 650 Tk.
Where should I stay?
Jessore and Khulna have a limited number of hotels. However, the majority of them are not bookable online. If you wish to stay in a comfortable hotel, I recommend staying in Jessore; Hotel Zaber or Oriental,, which are the international-standard hotels. You may find hotels in Khulna by using the search box below.
Modhu Polli of Poet Michael Madhusudan Dutta,
Village: Sagordari,
Upazila: Keshobpur,
District: Jessore
Country: Bangladesh
Gps coordinate (22°49'8.99″N, 89° 9'47.64″E).
What is the opening hours of Michael Madhusudan Dutta Memorial House?
April through September: From October to March, Madhupalli is open from 9 a.m. to 5 p.m. On Friday, there will be a break from 12:30 to 2:30. Madhupalli celebrates its weekly holiday on Sunday. Other public holidays are also observed.
Ticket cost
Madhupalli has an admission charge of 10 rupees for local tourists and 100 rupees for foreigners. Aside from that, parking for a bus costs 100 Tks, a microbus costs 50 Tks, and a vehicle costs 50 Tks. 10 Tk for a motorcycle