BY: MD TANZIL ISLAM
The largest man-made lake in Bangladesh is called Kaptai Lake, and it is a well-liked vacation spot. Kaptai, situated in the Rangamati area of the Chittagong Hill Tracts, is a popular vacation spot for many Bangladeshis (foreigners need special permission to visit). The lake may be a fun destination for visitors from outside the area, but to the indigenous Chakma people who live there, it is the scene of a tragic occurrence known as Bor Porong, or "the great evacuation."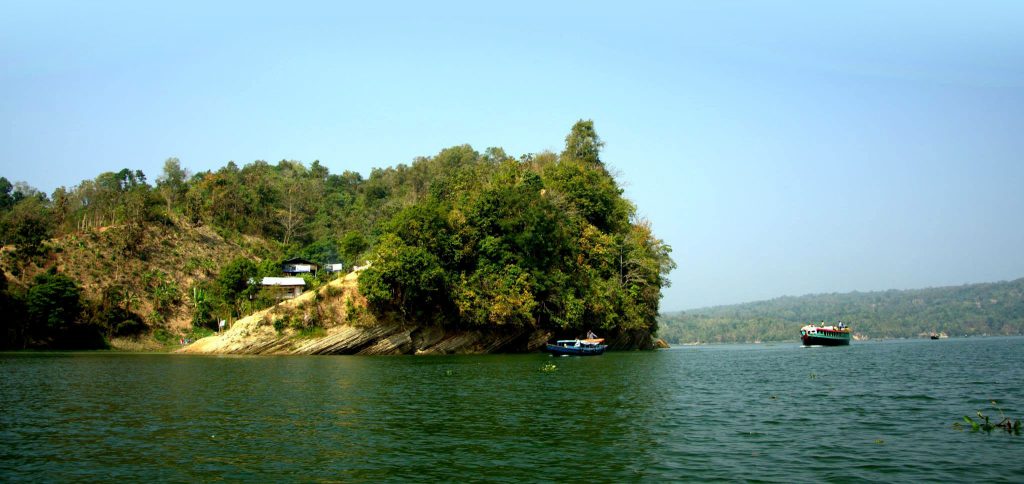 When the Kaptai Dam was constructed in 1962, Kaptai Lake was primarily established for the purpose of producing hydroelectric electricity. However, the Karnafuli Hydropower Station's dam flooded 54,000 acres of farmland. During that time, over 100,000 locals from about 18,000 households, largely from indigenous communities, were uprooted, forcing over 35,000 Chakmas and Hajongs to flee to the neighbouring country of India.
Kaptai Upazila in the Rangamati district has the best natural landscape of the Chittagong Hill Tracts. Kaptai Upazila is renowned for its distinctive mountainous terrain, lake along the river, and lush surroundings. With a surface size of up to 11,000 sq km, Kaptai Lake is the biggest artificial lake in South Asia. Small hills, carved mountain routes, waterfalls, and greenhouses close to water make it fascinating.
The hills are home to a wide variety of plants and animals, while the lake is home to numerous endangered fish species and an abundance of other species. You will never tire of the lake's surroundings, the tiny islands, the countless birds, and the indigenous people who live there. Despite being a man-made lake, nature created the entire thing out of love. While you may visit Kaptai Lake any time of year, the complete form of the fountains will make you feel as though you are in heaven during the rainy season.
A brief history of Kaptai Lake:
The Pakistani government started building the Kaptai dam with help from the U.S. in 1956. It was finished in 1962. Utah International Inc. and International Engineering Company built the dams 670.6 metres long and 54.7 metres high. A 745-foot-long water release path also called a "spray way," connects the 16 barriers across the river. The spray channel can release 5.25 million cubic feet per second. The original budget for this project was about 25.4 million Taka. But it was later increased to Rs. 48 crores. While the dam was being built, Kaptai Lake was made, which flooded 54,000 acres of farmland in the Rangamati area.
Even though it was constructed primarily to generate hydroelectric power, an abundance of sweetwater fish was raised there. As a result, Kaptai Lake significantly contributes to agriculture, flood control, and navigation. For the Kaptai Lake dam construction in the Rangamati District of the Chittagong Hill Tracts (22° 09′ North Latitude and 92° 17′ East Longitude), the bank of the Karnafuli River was chosen. In addition to the lake's original coverage of 1,722 square kilometres, nearly 777 square kilometres of additional land has been submerged. Rangamati district Upazilas Rangamati Sadar, Kaptai, Naniarchar, Langdu, Baghaichari, Barkal, Jurachharhi, and Bailachari were the lake's original boundaries.
Kaptai Lake's attractive locations include a boat tour that allows nature enthusiasts to explore the entire lake. Visit the Lake Paradise picnic area if you wish to appreciate the beauty of the lake from the tops of the hills. You can also take a boat or pedal boat out on the lake to travel. In addition to exploring Kaptai Lake with a reserved Speed Boat or Boat, you can also go to a variety of other locations, such as Rangamati City, Shuvolong Jhorna, and Rangamati Hanging Bridge. Furthermore, the river Karnaphuli near Kaptai has a kayaking route. Finally, you must visit Sheikh Russel Ecopark if you wish to take a cable car trip. Consequently, you'll find some truly beautiful locations while visiting Kaptai lake.
Hanging Bridge
Rangamati City
Shuvalong Jharna
Kaptai dam
Karnafuli river
Navy Academy
Sheikh Russel Ecopark
Cable car
How to Go to Kaptai Lake:
From Sayedabad or Kamlapur in Dhaka, it takes a bus approximately 7 to 8 hours to get to Kaptai. Additionally, you can travel to Kaptai from Chittagong if you so choose. The bus departs for Kaptai from the Bahaddarhat bus stop every 30 minutes. It requires 80 to 120 BDT. The duration is two hours. You can take a train from Dhaka to Chittagong, and then you can take a bus from Chittagong's Baddarhat bus terminal to Kaptai.
It would be best if you travelled down Rangamati Road to get to Boroichori from the Bowingchori bus stop in Bandarban. After that, you must use CNG to travel to Kaptai. You could travel to Kaptai from Rangamati via bus, CNG, or even boat.
The best time to visit Kaptai Lake is during a season change since the lake varies in beauty. However, anytime you visit Kaptai, regardless of the season, you cannot help but be enchanted by the beauty of the lakeside surroundings. As a result, you can go to Kaptai Lake whenever it suits your schedule. But the neighbouring fountains come to life during the rainy season, and the lakes are filled with water. For this reason, you will be quite happy if you can visit the monsoon.
Where do you plan to stay?
There is still no high-quality commercial hotel or motel available in Kaptai for overnight stays. Therefore, getting in touch with the Kaptai Government Rest House's authorities is best if you want to spend the night. You will also receive the rest houses with the approval of the relevant government agencies, including the Forest Department, PDB, Water Development Board, and Army. The Lake Paradise picnic area offers the option of overnight stays, but this may incur additional charges. However, given that Rangamati is so close to Kaptai, you are also welcome to stay here.
What will you eat?
You can purchase lunch or other meals at restaurants on the tiny island in the middle of Kaptai Lake if you choose. Restaurants, including Lake Shore Cafe, Zoom Restaurant, Paradise Cafe, and others, are located close to Kaptai Lake. Or you can enjoy some delectable food at the floating restaurant close to the naval area. Every day from 10 am till dusk, the restaurant is open.
Travelling tips for visiting Kaptai Lake
When travelling on the boat, if you can't swim, carry a waterproof jacket.
Don't dump trash (plastic bottles, packets, etc.) into the lake. We must take care of it because it is our fortune.
Want to plan a family or group trip to Kaptai Lake?
A tour with your family or friends would be wonderful at Kaptai Lake. This location's beauty will make you feel amazing. At the same time, returning here will just take a day. I hope you can visit Kaptai Lake on a limited budget.